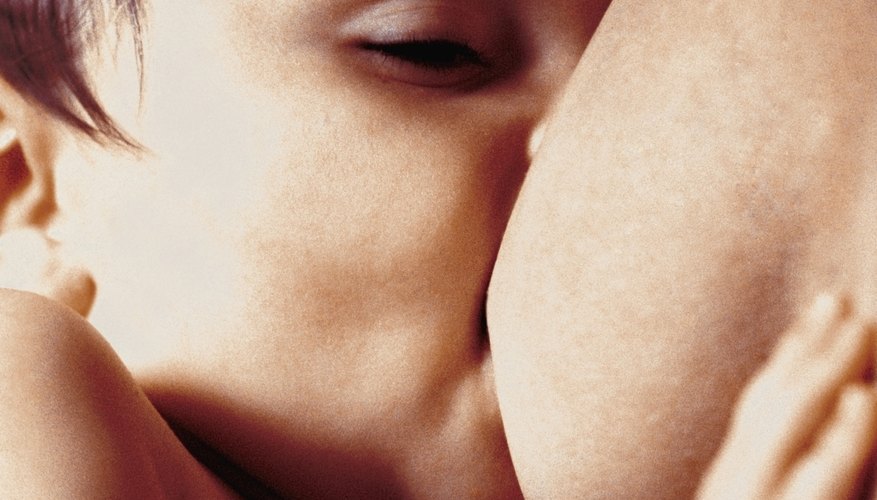 Evidence linking prolonged pacifier use with increased speech disorder risk raised questions for some parents about nursing and speech delays. In 2009, "BMC Pediatrics," a peer-reviewed journal, published a study by Chilean medical researchers and Washington University researchers that found prolonged pacifier use and finger-sucking increased speech disorder risk by three times. Bottle feeding before nine months was also associated with a higher speech disorder risk. Nursing, however, does not delay speech. Instead, breastfeeding promotes oral muscle development.
Babies Use More Muscles Nursing
The New Jersey Department of Health points to the tongue-thrusting motion associated with bottle feeding as a contributing factor in speech problems, noting breastfeeding promotes better oral and facial development, including that of the jaw and teeth, because the baby uses more muscles nursing. Federal University of Santa Maria and State University of West Paraná researchers studied breastfeeding's impact on children's ability levels for oral tasks, like sucking, drinking from a cup and chewing. The results were published in Brazil's Journal of Public Health, a University of São Paulo School of Public Health publication. Breastfed babies ranked higher across the board in oral skills testing. Researchers found bottle feeding and pacifier use resulted in less developed oral, lip and related facial muscles, negatively impacting oral skills.
Feeding and Speech Skills Develop Simultaneously
In an article published by "Kids With Tubes News", Arcata, CA certified speech therapist Christine R Yannone, CCCSLP, noted that "speech and feeding skills typically develop concurrently." According to information from Early Intervention Colorado, infants gain the muscle development and oral motor control required for speech through feeding. Breastfeeding babies use their tongues and their oral muscles differently than bottle fed babies, because there is a lot less effort required by bottle fed babies, resulting in differing patterns of development, strength and control.
Motor Control Can Impact Language Skills
In a study by Katie Alcock of the Department of Psychology at the University of Lancaster, published in "Down Syndrome Research and Practice," children with less oral motor control typically had lower language levels, while those with higher levels of oral motor control had "a range of language skills." While better oral motor control did not always mean better language skills, lower motor control levels were consistently associated with reduced language skills. Lower levels of oral muscle development and oral motor control can contribute to some, but not all, types of speech delays.
Breastfeeding Consistently Associated With Better Language Development
A 2013 "Science Daily" article on a study by University of Illinois speech and hearing science professor emerita Nicoline Ambrose and doctoral student Jamie Mahurin-Smith noted that numerous studies show "a consistent association between breastfeeding and improved language development." Breastfeeding is linked to lower language disorder risks, higher verbal skills, and developmentally meaningful babbling at earlier ages. In their own study, the researchers focused on stuttering, finding the longer children breastfed, especially boys, the more likely they were to overcome stuttering. They theorize that breastfeeding is so consistently linked to better language development because of the long-chain fatty acids, like DHA, that breast-milk contains, substances formula does not have. These long-chain fatty acids are essential to optimal neural tissue development, impacting the physical structure of the brain and overall neurodevelopment.