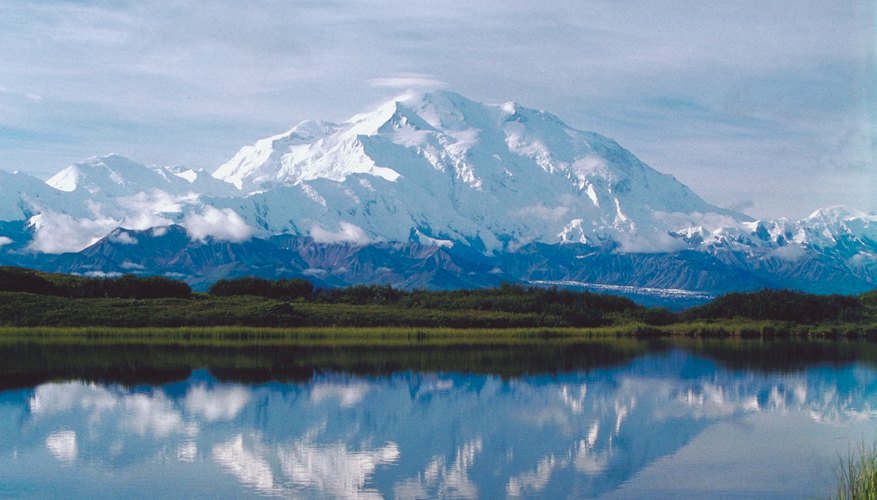 Alaska's extreme climate and abundance of pristine natural wonders makes it a fascinating and mysterious place for kids to learn about. As the 49th and most northern state in the United States, Alaska has a culture all its own. You can introduce your child to Alaska and its culture through a variety of kid-friendly educational activities and games.
Read About Alaska
Read children's books about the climate, wildlife and native culture of Alaska with your children. For children ages 3 and older, the book, "Amazing Alaska," by Deb Vanasse, uses colorful illustrations to introduce Alaska's visually stunning forests, massive glaciers and lakes, its long summer days and the variety of wildlife. For kids ages 7 and older, "Alaska," by Shelley Gill, provides a more in-depth look at Alaska, including the native cultures, activities specific to Alaska such as the Iditarod sled-dog race, and spectacular natural occurrences, including the northern lights.
Alaskan-themed Crafts
Work on crafts with your child that have an Alaska theme. Your kid can create small paper versions of totem poles that are a part of the culture of some Native American tribes. Using pictures of real totem poles, have your child cut out animal faces from colorful construction paper, then paste them from the bottom to the top of an empty paper towel tube. If she created any bird faces, she can also make and cut wings to paste on either side of the face. For another activity, your child can make paper bag animal puppets based on animals commonly found in Alaska. For example, to make a moose puppet, your child can cut out a long snout shape and, using a nontoxic school glue, attach it to the bottom flap of a paper bag. Have her cut out antlers from tan construction paper to glue to the corners of the flap and add googly eyes.
Alaskan Food
Bring your child into the kitchen with you to prepare dishes using ingredients that are sourced from or that are famous in Alaska. Salmon is an abundant and important food source in Alaska. While you grill up some fresh salmon for dinner, your child could prepare a tasty sauce such as a soy sauce and brown sugar glaze to pour over it. Rhubarb, a vegetable that is commonly mistaken for a fruit, is one of many plants that grow well in Alaska's extremely long days of sun in the summer. You could have your child help you prepare a rhubarb pie or cobbler, helping to add the chopped rhubarb to the baking pan and adding additional ingredients such as butter, honey, brown sugar and the pie shell top or crumble topping.
Alaskan Games
Engage your child and her friends in games that originate from Native Alaskan cultures. One game is similar to tug of war. Attach a short piece of rope to two strong, short sticks. Two kids sit down facing each other, grab one of the sticks and put the soles of their shoes against each other. They must pull their stick firmly in their direction, trying to force the other person off their bottom first. To play Squirrel and Dog, kids form groups of three -- two are tree shelters, holding their hands together, while the third kid, the squirrel, stands in the middle. Also, the game requires a single child who is a squirrel without shelter and another child who is a dog. The squirrel runs from the chasing dog to a tree shelter and the squirrel already in there must leave and find another shelter. If a dog catches any squirrel outside a shelter, the squirrel becomes the dog.