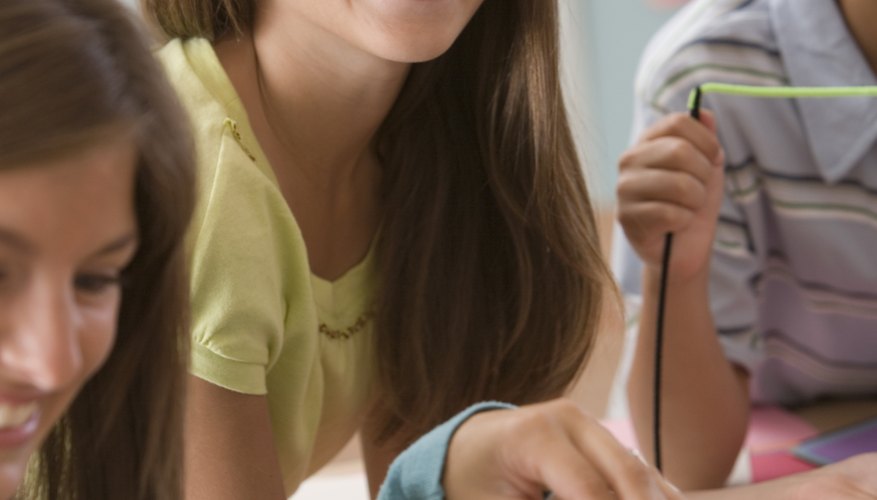 Whether you're trying to keep your preteen entertained on an uneventful, rainy afternoon or you're desperate for ways to fill the long summer vacation with boredom busters, you can use your 12 year old's interests as a guide to find activities that will keep him engaged, active and even developing his social skills. Talk with your youngster about the activities he enjoys the most on his own and with the family and then plan different types of activities, from his favorite one-on-one indoor project to his number one pick outdoors.
Art and Crafts
If your 12 year old is a crafty kid or you need an activity to fill up a rainy, indoor afternoon, pull out the craft box -- or create one and fill it with supplies -- and encourage your child to explore her artistic side with a variety of creative projects. Your child can make crafty gifts for friends and family members, such as decorated terra-cotta pots, painted ornaments and beaded jewelry, or she can learn a little about woodworking by making birdhouses, wall-mounted coat racks and fabric-topped stools. If your child prefers to craft in the kitchen, pull out the baking supplies instead to make a batch of sugar cookie pops in your child's favorite shapes, build a crisped rice treat house with candy decorations or create a healthy watermelon boat filled with berries and other fruits.
Volunteer Work
A multitude of lessons can be learned by a 12 year old when he gets involved in volunteer and charity work. Now that your child can work moderately independently, you can encourage him to get involved in a variety of different opportunities, such as helping to collect and sort food with a local food drive, donating his time to helping out at an animal shelter, visiting or performing a special talent for senior citizens at a long-term care facility or getting involved in a nearby park or neighborhood cleanup project. You can incorporate some parent-child time by volunteering alongside your youngster, which also gives you an opportunity to oversee his tasks. Help your energetic child get some exercise while doing good deeds by signing up for a marathon or other active charitable event, or encourage a preteen scholar to get involved in a tutoring program to help younger children excel in school, too.
Physical Activities
As childhood obesity has been on the rise in recent decades, finding ways to keep your child physically active can help to reduce the risk of physical and emotional problems associated with obesity in both childhood and later in the adult years. You can enroll your preteen in a group sport she's never tried, such as water polo, rugby or field hockey, to help keep her fit and work on her teamwork skills. If your child doesn't like the competitive nature of sports, look for non-competitive leagues or find individual physical activities to keep her active, such as swimming, martial arts or hip-hop dancing. Other individual activities to discuss with your preteen include horseback riding, jogging, skating or bicycling.
Adventures
Help your youngster cross off some items on his childhood bucket list, because he's going to have to start a new teenager bucket list soon. The adventures might be simple, such as rolling down a humongous hill or camping out in the backyard, or your young daredevil might have a more courageous list of things to do, such as going white water rafting, learning how to rock climb, hiking or flying on an airplane for the first time. If your child doesn't have a list already, help him make one full of the things he'd like to accomplish before he becomes a teen and then help him make it through the list. You can also make a family bucket list together to work on throughout the year, with activities like a family vacation, picnic in the park or a hot air balloon ride together.