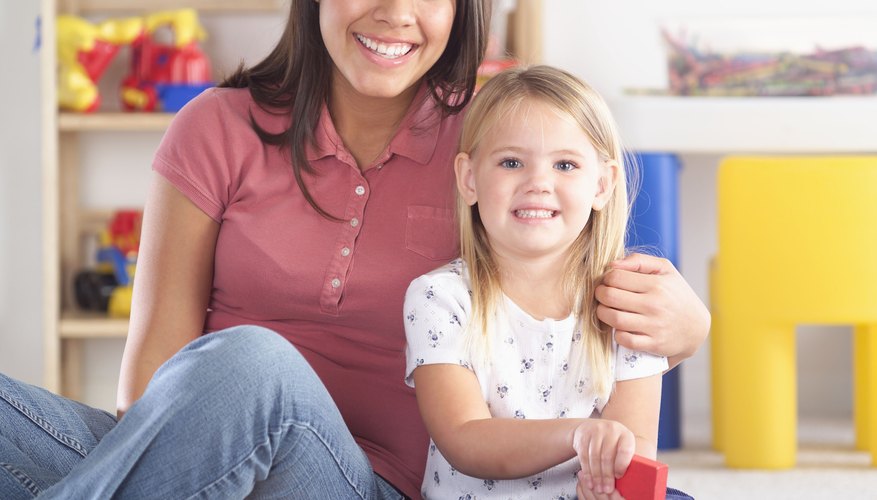 According to the U.S. Census Bureau, over 12 million kids under the age of 5 were in some form of non-parental child care arrangement in the year 2011 alone. If your child is one of the 25 percent of all young children receiving care at an organized facility -- such as a preschool or day care -- understanding what qualities top child care centers have is key to finding the ideal environment for her and your family.
Staff Qualifications
When choosing a quality child care center for your child, the American Academy of Pediatrics, on their Healthy Children website, recommends reviewing the staff's education and training in relation to working with young children. Early childhood educators who complete specialized training -- such as a college degree in child development -- can help kids to maximize the young child's learning and developmental benefits, according to the National Association for the Education of Young Children's position statement on "Professional Preparation Standards." The top child care centers across the county all employ teachers who have the training and knowledge to effectively create and implement a caring and educational curriculum that will help grow and develop young children. If you are looking for a new center for your child, ask what the minimum teacher qualifications are. Child cares that employ "teachers" who have no training or very little education in early childhood education or child development certainly shouldn't make the top of your list.
Discipline
No top-notch early childhood educator wants to discipline a child. That said, discipline is a must in most child care environments. From overly aggressive preschoolers to toddlers who bite or kick, the top child care centers have policies in place to deal with discipline issues. The pediatric professionals at the KidsHealth website note that parents must look for, and agree with, a center's discipline policies before deciding that the day care is the right place for their children. Top child care centers have discipline strategies that align with the individual child's age and focus on positive techniques over pure punishments. This may include using timeouts, implanting age-appropriate rules or utilizing praise as a means to encourage expected behaviors.
Curriculum
Although providing a caring environment is a key part of the day care center, these early environments also typically provide an educational aspect that you can't overlook. The top child care centers use quality curricula that include an array of content, are developmentally appropriate and match up with state learning standards. A developmentally appropriate program, according to NAEYC, uses a research-based approach to meet the child at her level and treat her as both an individual, as well as part of a community of learners. Additionally, top child care centers typically use their state's early learning standards to create a curriculum that will prepare the young child for later learning experiences in grade school.
Accreditation
Top child care centers typically hold some sort of recognition from a state or national organization that displays a mark of quality. For example, NAEYC accredited programs must meet the organization's 10 Early Childhood Program Standards and Accreditation Criteria. These include program standards for teaching, assessment, curriculum, health, physical environment, leadership, management and community relationships. Although NAEYC's process is one of the most well-known in the child care field, other accreditations, such as that from the National Early Childhood Program Accreditation by the National Child Care Association, also indicate quality centers.