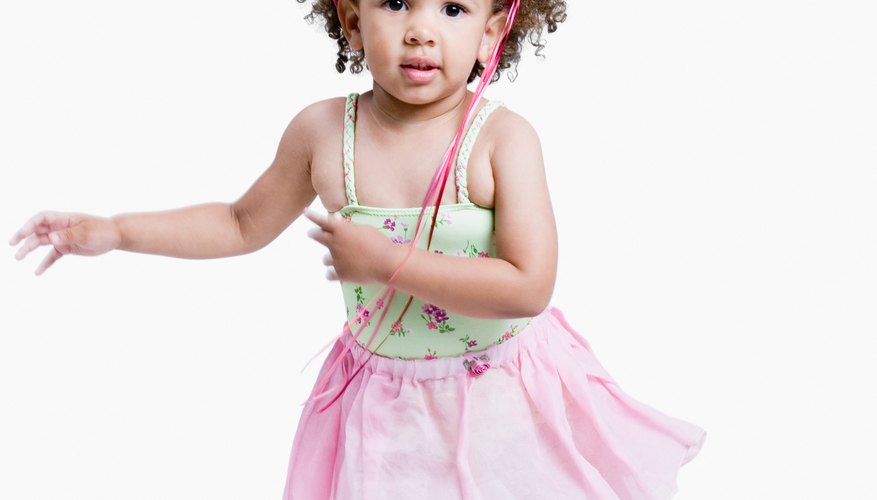 It may seem crazy to put a child who just learned to walk into dance class, but toddler dance programs are quite common -- and fun for your little one! They're not about turning toddlers into prima ballerinas, though. Toddler dance programs are a way to introduce toddlers to dance and help them adjust to a classroom setting. Bonus: Dance class might tire your tot enough for an extra-long nap.
Locations
Local dance schools are an obvious starting point when you're searching for toddler dance classes, but they aren't the only resource. Other places to look include your local YMCA, your city's recreation department or even your child's day care. If you have a baby gym in your area such as The Little Gym (thelittlegym.com) or Gymboree (gymboreeclasses.com), you can also find toddler dance classes there.
Ages
Alvin Ailey (alvinailey.org), a premier dance company and dance school, begins classes for toddlers as young as 2. Some local schools and YMCAs follow this guideline, while others start toddler dance programs at 2 1/2 or 3 years old. Often, classes for tots younger than 3 require parent or caregiver participation. So consider whether you want to join in or observe before you enroll your kiddo -- you might not be allowed to be a wallflower!
Skills
If your toddler isn't learning to be America's next dance star, what is she doing in her dance class? Most programs introduce age-appropriate movement skills such as jumping, pointing toes and wiggling to the music. There is a strong focus on teaching tots to follow directions and mimic body movements. In addition to basic movements, toddlers will learn about rhythm and music in a toddler dance program.
Genres
Most toddler dance programs cover ballet and jazz basics, such as foot positions and arm movements. Some also introduce the basics of tap or hip-hop. More specialized dance genres, including Irish or African dance, are usually not included in toddler dance programs. However, a basic toddler class can prepare your child to take more advanced forms of dance down the road.
Attire
While most of us think of dancing tots in tights, leotards and special shoes, many toddler dance classes don't require such special dress. At the Alvin Ailey program, for example, students dance in bare feet and clothes they can move in. Other schools do ask for traditional dance attire, however. Since requirements vary from program to program, you'll want to ask for your school's rules before you buy your toddler those adorable purple tights.