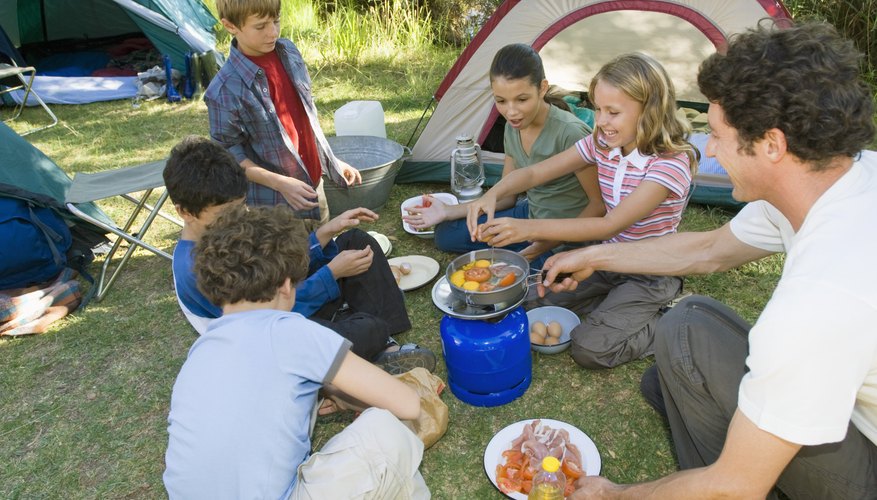 Pearland -- pronounced like the pears that you eat, not like the pearls that you wear -- is part of the Houston metropolitan area. Its motto -- "Where Town Meets Country; Classic Gulf Coast" -- suggests a lot about its character. While there are a lot of activities available, those who enjoy a quieter pace will also feel right at home in Pearland. For kids, there are a lot of opportunities for enjoyable activities and for learning about nature. A number of summer programs combine the two.
All-Inclusive Summer Camps
A variety of summer camps is offered in Portland and the surrounding area. While some are based on a theme, such as a sports camp or an arts camp, many more offer activities to appeal to a wide range of kids. Kidventure Camp of Pearland has two programs, one for kids ages 3 to 5 and one for kids in grades 1 through 7. Each of the nine weeks of camp is broken down by theme, such as monsters, pirates, a safari and a circus, and activities include crafts, experiments, games and outdoor activities. A pre-camp, day camp and post-camp are available, depending on what hours parents need.
Pearland Parks and Recreation offers Adventure Days for children 6 to 12 during school breaks throughout the year. Activities include crafts, games, indoor and outdoor sports and educational programs. Daily and weekly programs are available.
Sports and Recreation
Active kids have plenty of opportunities to stay busy during the summer in Pearland. The Coppinger Family YMCA in Pearland has weekly summer day camps that include swimming, games and other activities. Specialty camps include cheer camp, karate camp and dance camp.
The Little Gym in Pearland offers day camps for kids 3 to 8 years old and gives them the opportunity to get healthy exercise while also having fun. The camps combine exercise with games, arts and crafts. Camps can be attended by the day or the week.
Science Programs
Budding scientists can choose from a number of programs in the Pearland area during the summer. At Mad Science Houston, about 20 miles from Pearland, kids ages 3 to 11 can choose from a variety of camps to learn more about science and nature. Some options include a detective lab, space exploration, animal discovery and a chemistry lab.
The Building Brains Lego Camp, which has locations in Pearland and Houston, gives kids ages 3 to 8 the opportunity to learn about science and building by playing with some favorite toys, Legos. Activities are designed to teach math and science concepts and to boost student confidence. Half-day and full-day camps are available.
Reading Programs
Kids who love to get lost in a good book have some fun activities from which to choose as well. The Brazoria County Library System offers daily activities, including story hours, crafts, movies and drawing classes. The library also offers a summer reading program that is open to kids of all ages. Children are asked to identify a goal for a number of books to read or a number of hours to spend reading, and then they track their progress throughout the summer. Kids who reach their goals can receive a reward.