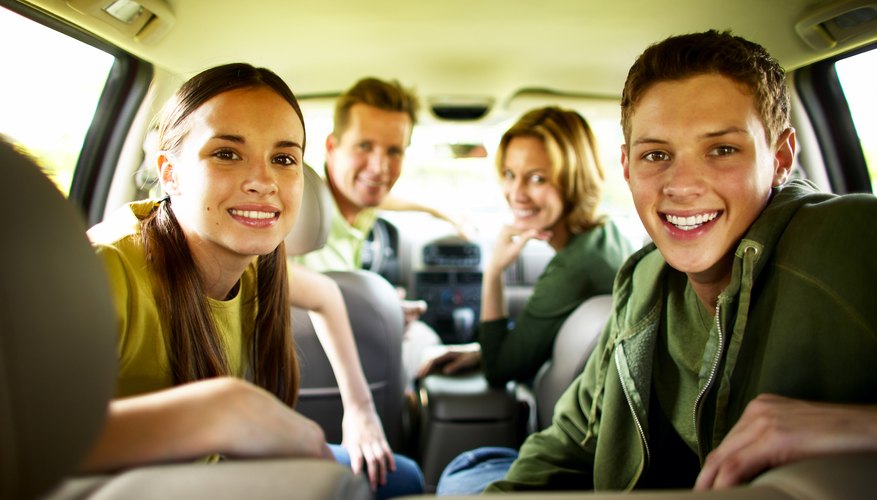 Spring breaks aren't just for college students. There are plenty of fun places to enjoy a family vacation, with activities to keep your teen(s) busy and happy. Whether your teen is into sports, the arts, the great outdoors, the big city or just relaxing on a warm beach, there are plenty of choices that will suit the whole family -- and keep your teen from complaining of boredom.
Warm Weather Spots
The Atlantis Resort on Paradise Island in the Bahamas is tailor-made for families with teens. Active teenagers will enjoy the huge water slides, river rides, rock climbing or swimming with dolphins. If your teen shrugs these off, he may prefer to try out the elaborate gaming systems the resort offers. A creative teen can hone his film making skills in the performance gallery, or try an arts project in the well-equipped arts and crafts program.
The Big City
For teens captivated by the energy and glamour of the big city, few places rival New York City. Your teen might want to try a Broadway play, wander a few of New York's famous art museums, or visit Lady Liberty and the Empire State Building. For the avid shopper, there's Fifth Avenue, Macy's and the West Village. Sports fans might enjoy the NBA store on Fifth Avenue, a game at Yankee Stadium or Madison Square Garden, or cycling or skateboarding through Central Park.
Cold Weather Fun
For families with teens who love winter sports, the Smugglers Notch winter resort in Vermont offers many fun activities. If she's just learning to snowboard, the resort offers snowboards that have an easy flex and beveled underside, which make snowboarding easier for learners. Also offered is cross-country skiing, with training and special learning slopes at their own Snow Sport University. Other activities include dog-sledding, indoor swimming, arts and crafts and ice skating.
Going on Safari
San Diego is an excellent choice if your teen enjoys outdoor adventures. In addition to having a beach nearby, animal lovers will enjoy the world-famous San Diego Zoo and its nearby Safari Park. The open-bus safari takes visitors through its 1,800-acre park, offering views of giraffes, cheetahs and rhinos, among others. Adventurous teens will love the zip line that's two-thirds of a mile long. There's also a summer camp adventure for youngsters up to age 17.