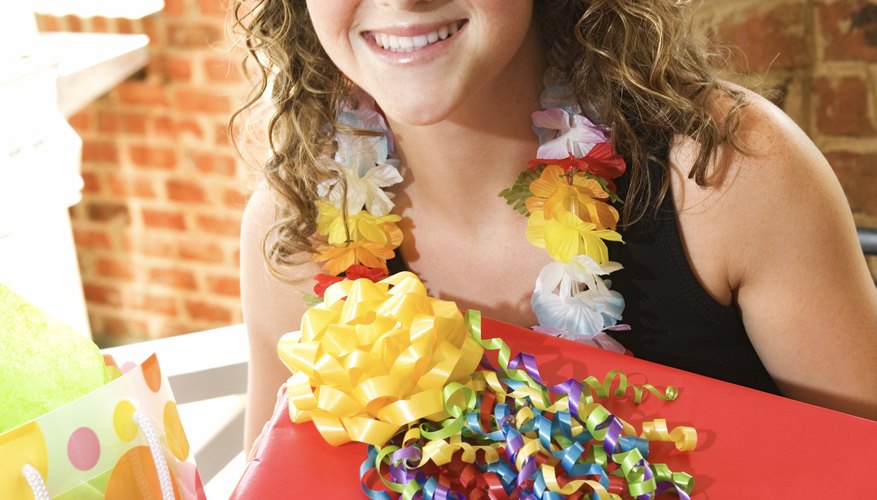 Teenagers are in a special place between being a child and being an adult. That means that they still enjoy things like birthday parties, but they are a lot more picky about how to celebrate, not wanting to do anything that seems too childish. Parents have to straddle the line between fun and cool, which is always changing. Fortunately for parents in Connecticut, there are a number of options that will please even the pickiest of teens.
Outdoor Activities
Active and adventure-loving teens have a lot of options to celebrate their birthdays in Connecticut. At the Brownstone Exploration and Discovery Park in Portland, teens can go zip lining, rock climbing, swimming, snorkeling, scuba diving, cliff jumping, kayaking, wake boarding and hiking. There's enough to thrill even the most disaffected teen. Birthday packages include eight passes, a gazebo rental, kayaking for two and an ice cream cake.
Clarke Outdoors in West Cornwall offers teens the opportunity to get a little wet and wild on their birthday. The company offers canoeing, kayaking and rafting on the Housatonic River, which includes calm waters and gentle whitewater rafting opportunities Six- and 10-mile tours are available, and birthday parties include a free T-shirt for the birthday guest of honor.
Sports and Recreation
Numerous indoor centers are available that offer teens the chance to work up a sweat while also having a good time. The Sports Center of Connecticut in Shelton has baseball and softball batting cages, an 18-hole mini-golf course, a golf driving range, a double-decker ice skating rink, hockey and laser tag. Birthday parties include pizza, refreshments and discounts on activities.
At the Flight Trampoline Park in New Britain, teens can jump on over 13,000 feet of connected trampolines. Trampolines are positioned on angled walls, and launching decks give teens the chance to really soar through the air in this high-energy atmosphere. Birthday parties include one-hour passes for 10 jumpers and the birthday guest of honor and exclusive use of a party room for an extra 45 minutes.
Gaming
Many teens love gaming, and there are plenty of places that will show them a good time for their birthday in Connecticut. At Sonny's Place in Somers, teens can ride go-karts, play arcade games and play miniature golf. Several birthday party packages are available, which you can customize to your needs and your teen's tastes.
You can bring the party to you with Monster Mobile Arcade. This mobile arcade service in North Haven travels a 50-mile perimeter free of charge, or it can go further for a fee. Teens can head inside the giant trailer to play classic and new arcade games, and you can set up your food and refreshments at your location.
Artistic Activities
For artistic teens, there are several enjoyable ways they can celebrate their birthdays. At Splatter Box Smart Studio in Westport, teens can make tie-dyed T-shirts, paint pottery, create hand-crafted journals and participate in other art projects in themed parties. Each party can be customized for your teen's tastes. Many of the suggested themes are suitable for younger teens, but you can work with the staff to create an idea that will work for older teens.
The Art Truck in Glastonbury offers art projects for kids through adults in their mobile studio. Bring the fun to you and create jewelery, paintings and scrapbooks. You can work with staff to create a theme that is suitable for your teen's tastes and age level.