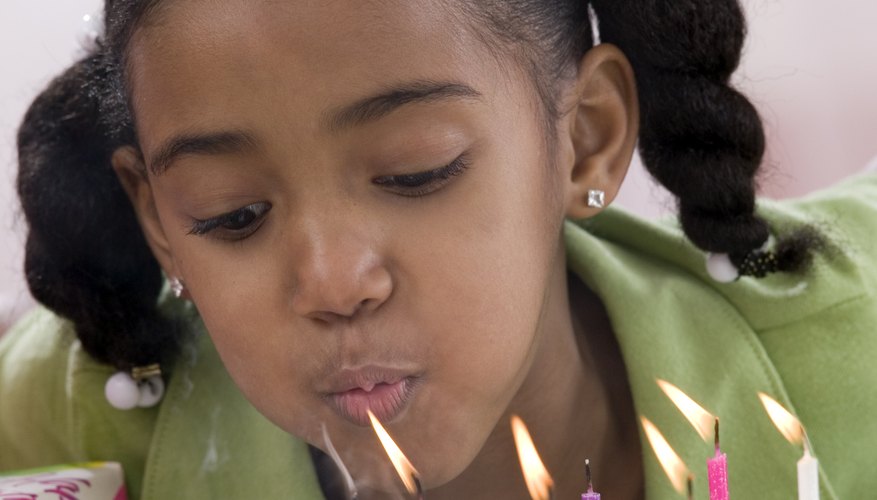 A child's birthday is an exciting and memorable event that is often celebrated with family and friends. However, hosting a party in your home can be stressful and can hinder your ability to enjoy your child's special day. The good news is that there are many places to host a child's birthday party in and around Milwaukee, Wisconsin.
Museums
If your child is between the ages of 2 and 7, Betty Brinn Children's Museum is the perfect place for hands-on birthday fun. Various party packages are available to accommodate 20 to 50 guests. Enjoy free admission for the guest of honor and two adults, 90 minutes in a private party room and access to multiple educational and interactive exhibits. You are allowed to bring food, non-alcoholic beverages and tableware into the museum. Decorations are also allowed, but some restrictions apply. The Milwaukee Public Museum offers butterfly- and dinosaur-themed birthday party options. MPM parties include museum admission, three hours in the party room, decorations, tableware, goody bags, cupcakes and milk. For your added convenience, invitations and thank-you cards are provided. The host family also receives a one-year museum membership.
Indoor Fun Zones
Bounce Realm is located 8 miles from downtown Milwaukee in Greenfield. This fun zone caters to children under age 13 and features inflatable play equipment and arcade games. Party packages for up to 32 children include unlimited play, four complimentary tokens per guest, one complimentary drink per guest, tableware, two hours in a private section and the assistance of a party attendant. Party invitations are provided, and your child is entitled to a free pass for future admission, a special birthday crown and a birthday button. You can bring in your own birthday cake -- and purchase various food and beverage options onsite. A variety of party add-ons, such as balloons and goody bags, are also available. Fifteen miles from Milwaukee in Waukesha is Monkey Joe's where children between the ages of 4 and 12 can enjoy inflatable slides, bounce structures and obstacle courses. Party packages for up to 24 guests include invitations, two hours in a private suite, tableware, drinks and a complimentary T-shirt for the guest of honor. A party host is also provided for your convenience. You can bring your own cake, but other carry-ins are not permitted. Pizza, ice cream, balloons and goody bags are available for an additional charge.
Animal-related Venues
Parties at Hoffer's Tropic Life Pets include a private, interactive presentation that showcases five different animals, a guided tour during which guests have the opportunity to feed animals, free goldfish coupons for guests and access to the party room. Parties last two hours and accommodate up to 15 people. You are welcome to bring in your own food, beverages, tableware, decorations and goody bags. The Wisconsin Humane Society hosts birthday parties for children between the ages of 6 and 12. Parties include tours of the Wildlife Rehabilitation Center, the Veterinary Clinic and the animal lodging facilities. Invitations, decorations, cake, drinks and a close encounter with an animal or two is also included. You can also add pizza and T-shirts.
Bowling Centers
Bowling birthday parties are suitable for kids as young as age 4 and are perfect for teenagers. JB's on 41 offers one hour of bowling, three pizzas, three pitchers of soda and tableware for up to 10 kids. Guests also receive a game room card, a goody bag and a buy-one-get-one-free coupon for bowling and shoe rental during their next visit. As an added bonus, each birthday group is assigned a party host, so you can sit back and enjoy your child's special day. Food add-ons are available, and additional charges are applied for groups larger than 10. AMF West Lanes hosts customizable parties for a minimum of 8 guests. Let AMF know what kind of food, beverages and decorations you want for your child's party, and they will organize the entire party for you. They also provide a convenient Evite tool on their website for creating email invitations.