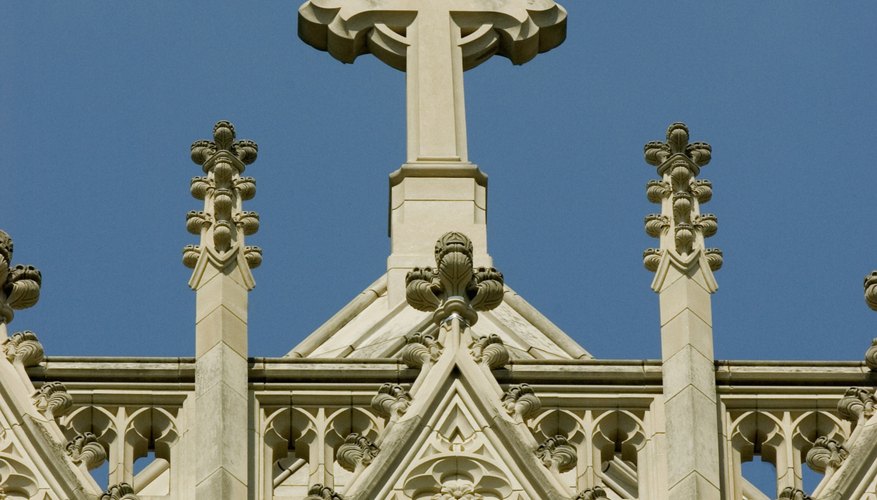 Lent in the Lutheran faith is a religious observance that begins on Ash Wednesday and lasts 40 days until Easter. This is a time of self-sacrifice and of giving to others. Teach your little one the principles of Lent early, to instill the importance for a lifetime. Now, you don't want your child to go through his toy box and give all his favorites away, but you do want him to think about others in need. Lent provides the perfect time for character building and self-reflection in toddlers and preschoolers.
Penny Donation
To have your little one begin to think about being thankful and appreciative of what he has, let him contribute one penny each time he eats a meal or snack. Set up a donation jar for him to do this and make a big deal of it. He'll feel like a big boy, able to help others. Let him know that he's not paying to eat his meals, but just taking time to think of others who don't have food in the world and even in the neighborhood. At the end of Lent, count the pennies and donate them to the church or a local food pantry.
Bake a Crown of Thorns
Explain to your child that the crown of thorns represents the thorns placed upon Jesus during the Crucifixion. Twist frozen bread dough into a braid and then form a circle to make the crown. Stick toothpicks in to represent the thorns. Bake the bread and let it cool. Don't let your little one eat it, since it's symbolic. Each time he does a good deed, give him a toothpick to place in a bag. Be careful since the toothpicks are sharp. After the holiday, count the number of toothpicks, he's earned and give him a dime for each. With his money, let him choose something to buy for someone else. Forty days of dimes can add up fairly quickly. If he wants to buy a small toy to give to a friend, let him. He'll develop a giving spirit that hopefully will last and rub off on others.
Prepare Crosses
Use craft sticks to represent the Cross. Color the sticks purple with marker or paint, to symbolize Jesus' robe. Glue the sticks together and help your child write words on the cross that tell what Jesus means to him. Write down exactly what he says, since that's what he feels or has learned. Place the Cross in a prominent place in your home and discuss it throughout Lent. If your little one has more words to include, make more crosses throughout the holiday.
Create Palms
Your child may ask why are you making leaves, but let him know that palms are no ordinary leaf. They symbolize Palm Sunday and Jesus' Resurrection. Draw the outline of a palm leaf on a sheet of white paper. Let your child color it with green crayons. Help him cut it out using safety scissors. Paint a straw brown and let it dry, then tape it to the palm to represent the stem. Your little one can take it to church or Sunday School with him on Palm Sunday and see if he can explain its meaning to others. This may take a little practice at home first.