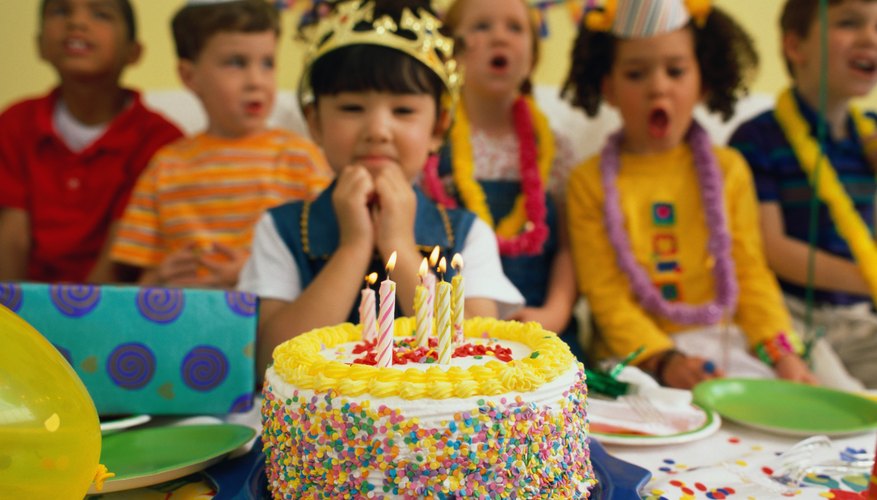 In Hawaii, whether it's small gathering of classmates or an all-day event with family and friends, keiki (child) birthday parties usually involve plenty of ono (yummy) food and entertainment to mark the special occasion. From traditional party games, face-painting, balloons, clowns, magicians and the like, to innovative or educational activities, specially themed events, and -- of course -- the traditional luau, entertainment options abound in the land of aloha.
First Birthday Parties
Baby's first birthday is always a very special occasion in Hawaii, and for many island families, this means a big party or luau. Because the guest for a first year birthday celebration traditionally includes extended family and friends of all ages, entertainment usually includes something for everyone. This may mean a balloon artist, a magic show, pony rides or a bounce house for the little ones, and a band or other musical performance for the adults. Whether the event is held in a restaurant, hotel ballroom or backyard, you can count on food -- lots of it -- at any keiki first-birthday party. Popcorn and cotton candy machines are also big hits with keiki and adults alike, as is a traditional favorite, Hawaiian shaved ice.
Swimming
Swimming is a popular entertainment option in Hawaii. Because most pools in the islands are outdoors, it's important to provide your guests with shade from the sun's rays. Many community centers and Ys offer swimming birthday party packages that include pool time and a room or pavilion where you can provide your guests with food and additional entertainment. If you plan to hold your party at the beach, make sure to get there early enough to find a shady spot, or bring along a tarp and plenty of beach umbrellas. Depending on the age of your guests, fun party favors might include plastic pails and shovels, sand toys, swim goggles, foam noodles, dive rings and other pool toys. Do check with the facility or beach before you go to make sure what items and toys are allowed, and to ensure that everyone stays safe and has a good time in the water, ask parents of non-swimmers to send along a life-jacket for their child. Invite enough adults to provide adequate supervision, especially in the case of pools or beaches with no lifeguards on duty.
Connect with Nature
Your birthday child and her guests can go wild with a party package at the Honolulu Zoo. Birthday party packages include admission to the zoo for your guests, guided tours and fun activities, rides and games. Each package also includes food, ranging from hot dogs and hamburgers to Hawaiian barbecue or even a luau, complete with island favorites like Kalua pork, poi and coconut haupia. The Waikiki Aquarium also has birthday party packages kids love to dive into. Packages include admission to the park for the birthday party guests, where where children will learn first-hand about Hawaii's abundant and unique aquatic life. Specially themed parties may include keepsake name badges and lanyards, an audio wand for each child, special activities, and -- a big plus for the parents -- reserved parking.
Other Special Destinations
Take your birthday bunch on an island adventure to learn about science, history and the stars at the Bishop Museum, explore with their senses and learn through play at the Hawaii Children's Discovery Center or even swim with the dolphins at Sea Life Park. Head out to the Hawaiian countryside for a birthday party celebration at Kualoa Ranch, where your guests can explore the petting zoo, ride horses, play games and take a tour of the lush valley in an open-air bus.