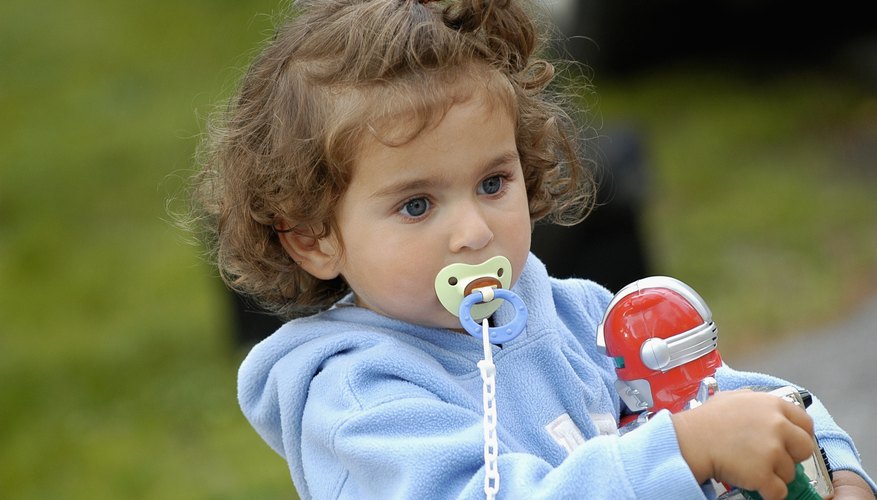 Your baby's slimy saliva makes an excellent adhesive for every bacteria imaginable. When your wee one sets her pacifier on the floor, gives it to the dog for a quick lick or drags it over the wheels of her riding toy, the bacteria on those surfaces sticks to the saliva that she then pops in her mouth. This is why the National Association for Education Young Children recommends sanitizing pacifiers at least once a day.
Scrub
Germs and bacteria stick to the saliva on your baby's pacifier and dry, creating a filmy, germy layer over the entire surface called a biofilm, states Dr. R. Tom Glass in 2012 Time Magazine article, "Bacteria on Binkies: A Recipe for Crankiness" by Bonnie Rochman. Glass was principal investigator of a study presented at the annual meeting of the American Society for Clinical Pathology (ASCP), and he is a professor of forensic sciences, pathology and dental medicine at Oklahoma State University. Scrubbing the entire pacifier with a hot, soapy water and a small nipple brush helps break up these germ-filled coatings. Scrubbing his pacifier before each use and at the end of the day is an effective first step to maximum disinfection.
Dishwasher
The hot, sudsy environment inside your standard household dishwasher makes it an effective disinfecting method for your little one's pacifier -- assuming the pacifier is labeled as "dishwasher-safe." Simply place the pacifier in the wash rack and run the machine as you would normally. Don't forget to let it cool and dry before offering it to your little one again.
Boiling
Boiling is one of the oldest and most effective ways to disinfect any surface. According to the NAEYC, placing your tyke's pacifiers in a pot of boiling water for one minute will thoroughly remove any bacteria or germs. Ideally, this sterilization process should ideally occur at the end of every day. Save yourself time by boiling all the pacifiers together at the end of each day.
Microwave
Simply tossing your little one's pacifier in the microwave for 30 seconds won't disinfect the surface, but with some additional preparation, you can successfully disinfect his pacifier in the microwave. A 2011 study published in Pediatric Dentistry as cited on PubMed.gov, concluded that spraying a 0.12 percent chlorhexidine solution spray on the pacifier followed by seven minutes in the microwave will sufficiently disinfect the pacifier.