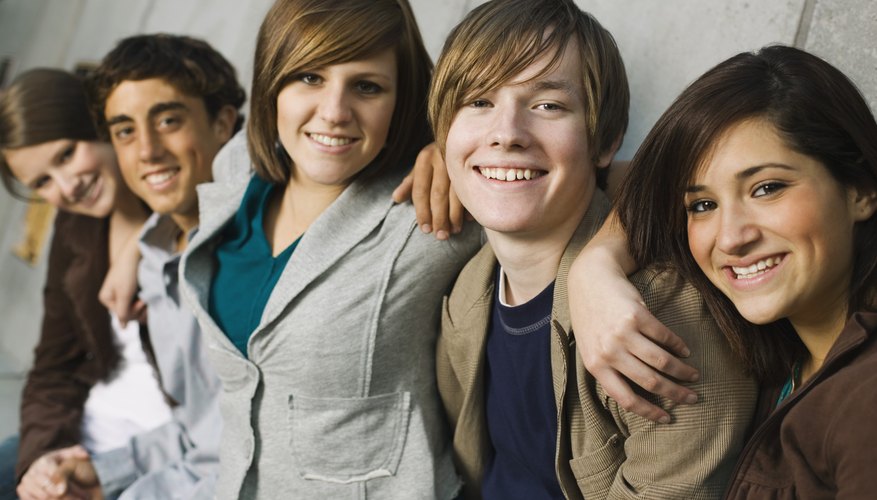 While the Big Apple is packed with an abundance of nightlife for adults, your teen can also find her share of entertainment with age-appropriate evening activities in NYC. Between the cultural attractions, arts venues and the array of hip events geared toward the under-21 set, spending an evening out in New York might be all that an adolescent could ask for.
Museums
If you think visiting one of New York City's world-class museums is something for a day-time family trip, think again. Your teen can hit the town, spending an evening out with other kids at a late-night museum event or class. The Museum of Modern Art has a free evening Art Underground teen program that features films, art workshops, snacks and pizza. The Metropolitan Museum of Art also has occasional evening programs for teens. These vary by season, but might include free classes such as a Friday evening Drop-in Drawing workshop. If your teen isn't artsy, but is a science buff, he might enjoy the American Museum of Natural History's Hayden Planetarium after-hours classes, star-gazing and lectures.
Theater
A teen interested in acting can take in an evening that includes a theatrical performance on Broadway. Whether you go with her or send her to a play with her friends, New York's bustling theater scene has an array of teen-appropriate options. Before choosing a performance for your teen, or allowing her to pick one herself, read reviews to ensure that the content matter is acceptable for a teen audience and for your family's beliefs. "The Lion King" and "Les Miserables" might seem acceptable, but "Kinky Boots" or "Hedwig and the Angry Inch" have content that is most likely too mature for your teen.
Music
Instead of a big-budget musical for your teen's fun-filled night out, consider helping him to choose a more pop-oriented performance. NYC has a variety of club and performance venues that offer under-21 shows that feature local and national bands. A teen who is at least 18 years of age can check out the array of acts at NYC's Bowery Ballroom. Before buying tickets, check the shows age requirements because some are 21 and over. The historic Beacon Theatre, which opened in 1929, brings national acts to a New York audience. While plenty of evening music events are available for your teen to see, keep in mind that the venue does sell alcohol. If you have concerns, talk to your teen and let him know that the Beacon has strict alcohol policies and requires a valid ID.
Galleries
Where art museums provide entertaining, and educational, evening classes and workshops for kids, art galleries provide teens a way to view paintings, sculptures and other artistic endeavors in a less structured environment. If your teen is an art enthusiast or is thinking of trying to work in the field, going to art openings and all-ages evening events at any one of NYC's galleries is an excellent intro to this creative world. Your teen can get a better understanding of what it takes to become an artist by attending an opening at the School of Visual Art's gallery or visit the artist-run Harbor Gallery in Brooklyn. Before sending your teen off to an art opening, or going with her, ensure that the items on view are age-appropriate in your eyes.