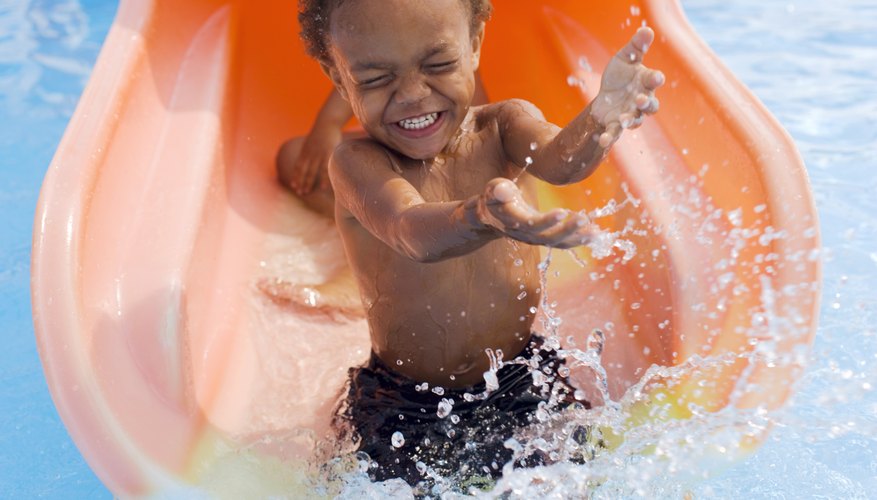 Preschoolers have a lot of energy, and sometimes -- okay, a lot of times -- parents need a break from entertaining their kids. Planned activities and kid-friendly clubs can enrich your preschooler's life and keep you from hitting the chocolate too hard. Choose activities carefully; an over-scheduled child means an over-scheduled mom -- which isn't a break at all.
Getting Physical
Preschoolers need plenty of physical activity each day. If jumping on the sofa (you really hate it when your kids do this) and doing somersaults down the hall aren't enough, sign your child up for a sport. Preschoolers lack the physical coordination required for many sports, so look for a pee-wee league that focuses on the fundamentals of the game. Other age-appropriate activities include swimming lessons, karate and tumbling. Many dance academies accept pupils as young as 3, which might appeal to less-athletic kids -- and to the many aspiring ballerinas, who love nothing more than to twirl and bend in a tutu.
Artistic Flair
If your preschooler has an insatiable need to decorate your walls with crayon, you might have a budding artist on your hands. Channel her creativity into activities that won't earn her a time out, such as art classes or a children's theater group. Check local craft stores for classes geared toward young children. Museums and community centers often have kids' clubs that offer educational activities for reasonable fees. Look for local music programs specifically designed to engage and delight the preschool crowd.
Building Brainpower
Preschoolers love books, and they love to be read to. Some older preschoolers might even be starting to read by themselves. Many libraries offer story time for youngsters free of charge. Some also have book clubs for children. Communities that don't have libraries close to them may offer a bookmobile, which is a van or bus that's been converted into a mobile branch of the city or regional library and which drives into communities on a specific schedule. If you don't have a library nearby, create a book club or book exchange for your child and his friends. Plan an activity or a treat to go along with the books you choose, and make sure each parent takes a turn with the hosting duties.
Purely Play
While planned activities and classes can be fun and educational, sometimes kids just need to play. Children who don't go to childcare or who don't have siblings will particularly benefit from organized playgroups that let them have fun while teaching them social skills. Casual gatherings with friends from the neighborhood are simple and free, but if that's not an option, look for a local religious or community center that might help you connect with other families with kids. Commercial indoor play spaces offer supervised fun during inclement weather and in urban areas.