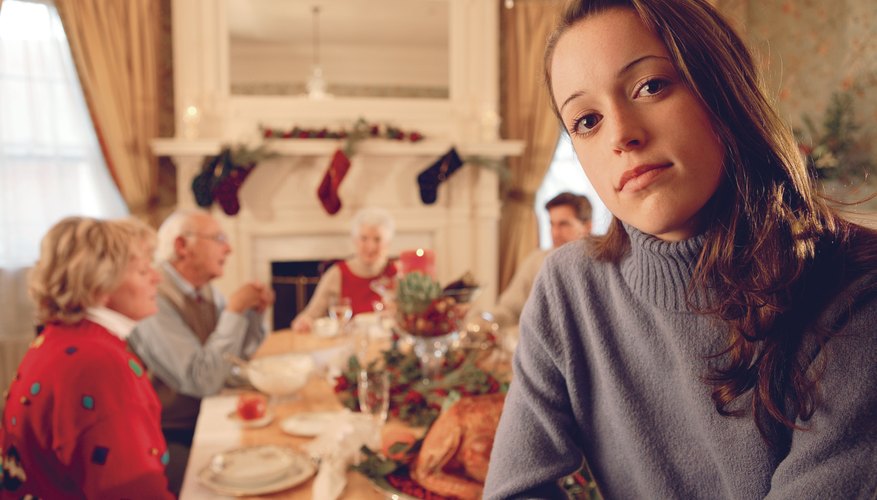 Many families send letters to friends at Christmas time with funny stories and happenings from the year. After you bang out a newsy piece for mass mailing, you might want to sit down and write a more personal letter to your teenage daughter. Christmas is an opportunity to reconnect with those you love most. Perhaps it's been a rough year for your teen and your relationship feels tenuous. Take the time to let your daughter know how much you cherish her. Your letter may be the best gift she receives this year.
Take a few minutes to brainstorm. Whether you're living under the same roof or separated by divorce, custody or estrangement, communicating with a teenager can be difficult. Figure out the goal of your letter. Are you seeking reconciliation? Trying to let your teen know how much she is loved? Or are you simply filling your teen in on the year's events?
Sketch a brief outline. No matter what your goal, it's important to express your love for your teen in a Christmas letter. Use the first paragraph to affirm your unconditional love and the second to praise your daughter for her accomplishments, gifts and unique personality.
Pick a format. If you are writing a casual note, you may want to use bright, festive stationary. For a more formal letter, use plain stationary and tuck the letter inside a card.
Start writing. In a world of emails and text messages, the written word is a rare thing. Write the letter by hand so that your daughter will have a keepsake.
Include pictures. Christmas letters often include pictures of the year's events. Surprise your daughter with photos you've snapped of her at school, sporting events or other activities. Write a note on the back of each picture telling her how proud you are of all her accomplishments and talents. Or, include pictures of your daughter from past Christmases. Write a few memories on the back of the photos.
Tip
Drop a handful of green and red confetti into the envelope or spritz the letter with pine- or cinnamon-scented spray for a festive touch.