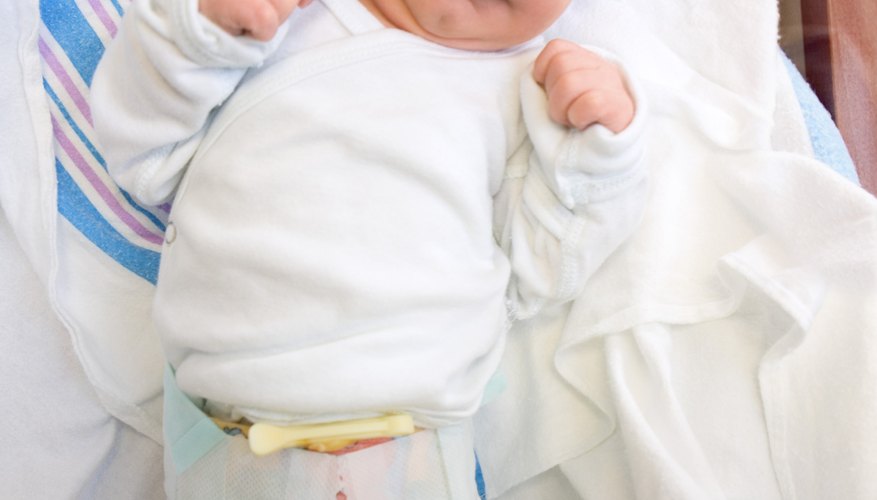 Among the endless list of baby supplies, it is essential that you stock up on some newborn clothes. You will find countless styles and various types of baby clothing items, but you can stick to a basic list at first. Collecting, washing and preparing these ahead of time will help you get through the busy first months of your little one's life.
Day Wear
During the day, your newborn may go through several clothing items due to spit up incidents and potty accidents. Purchase at least four to six short- or long-sleeved undershirts that snap to close. Since your newborn can get cold quickly, these undershirts come in handy as you can leave them on while you change her diaper. Stock up on several 0- to 3-month size Onesies that snap between the legs. These act as a base layer of her outfit and keep her warm during the colder months or act as the main clothing item when it's warm. Body suits come in a variety of colors and patterns. They cover her arms, legs and trunk. Some cover the feet, while others leave those cute tootsies sticking out. Body suits usually snap to close, but some have zippers. Pants and regular shirts can also be added to her wardrobe.
Sleepwear
The American Academy of Pediatrics recommends that you dress your baby lightly for sleep, but warm enough to not need blankets in her crib or bassinet. A sleeper, sleep sack or sleep gown is a great solution to this. It is a one-piece item that usually zips or is buttoned and the bottom section looks like a sleeping bag instead of having two legs. These keep your wee one warm as she sleeps. A light-weight sleep swaddler can also be used for newborns. This mimics the feeling of being held in the womb, as it gently holds your baby's arms against her body. A newborn can easily scratch her face as she moves her hands and arms around. Some sleepers have folds on the ends of the sleeves that you can use to prevent her hands from scratching.
Outer Wear
Your little one will need an extra layer when out and about, as he doesn't retain heat as well as an adult or older child does. Have a jacket or cardigan ready for cool days. A snowsuit is a must for cold weather. Mittens keep his little fingers nice and toasty.
Other Items
Collect some miscellaneous odds and ends to finish up. You will need numerous pairs of socks or booties, as these tend to magically disappear. She will need to wear a hat or beanie to keep her head warm. Sun hats or bonnets are wonderful when you're out in the sun. Bibs and burp rags are a necessity, as well. Spit up happens -- be ready for it.