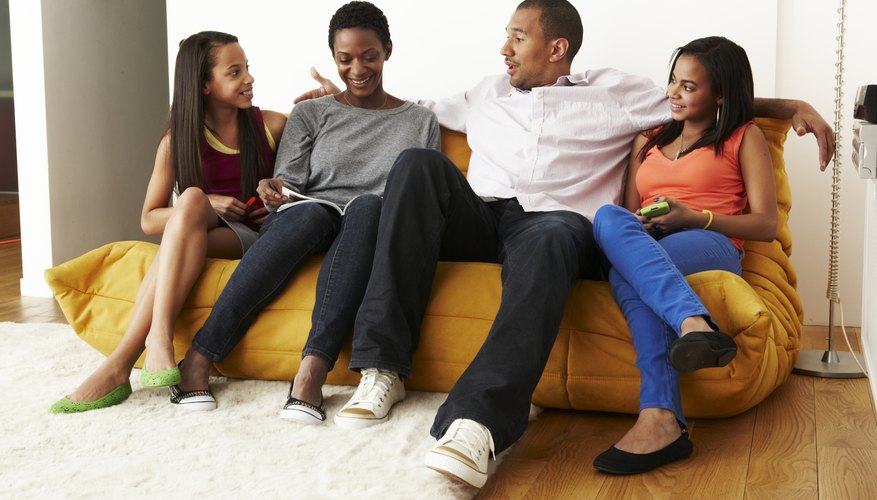 Encourage positive communication within your home to improve family relationships. HealthyChildren.org points out that the code of conduct your kids learn within the family will support them throughout their lives. That's not to say everyone must agree with all the other family members at all times. Help your family to communicate more positively so they find ways to resolve conflicts while still maintaining close bonds. Remember -- your kids learn from your example, so pay special attention to your own communication skills.
Information
Often you need to give factual information to family members to ensure everyone gets to appointments on time. Arranging mealtimes and organizing transport to school or play dates needs clarity and accurate detail. Make sure you tell each member of the family individually what he or she needs to know, using age-appropriate language and writing down relevant dates and times for older kids. Use a family calendar, notes on the refrigerator or on kitchen notice boards to avoid confusion. Encourage your kids to add their own information. Keep a daily routine of checking for notes from school.
Emotion
Pay attention to the feelings of family members. Help them to communicate their emotions honestly and calmly by reflecting their comments back. Statements like "I can see you feel angry with your brother because he broke your doll" acknowledge your child's emotions and help her to identify and deal with them. When you then ask, "What do you think he should do to make you feel good again?" you give her an opportunity to resolve the dispute positively.
Non-Verbal
Make sure your facial expression, body language and tone of voice match the content of your communication. People take more account of the way you speak than of your words, especially when dealing with emotional topics. Your family will pick up on any anger or frustration you feel, so make sure you tell them when it's not their fault you feel that way. Use positive non-verbal communication, including hugs and kisses, to offer comfort and support family bonds.
Clarity
Foster clarity and honesty in your own communication style to set an example to your family. Say "no" firmly when you disapprove of something they say or do. Avoid vague generalizations that tend to infuriate your teens, like remarking that kids today are always rude. Instead, state specifically what you want -- for example, that you expect your kids to empty the dishwasher before you return from work. People who feel happy with their relationships tend to balance every negative interaction with five positive ones, so remember to spend five times as much time praising each family member as you do giving negative feedback, advises Mary Gosche, human development specialist for the University of Missouri Extension.
Listen
Become a good listener to encourage your family to communicate better. Be prepared to stop what you are doing and make eye contact, so your child knows he has your full attention. Check you understand by asking questions. For example, say, "So you thought your teacher was unfair to you? What did she do that made you think that way?" Thoughtful, non-judgmental questioning helps your child analyze and express his exact meaning.