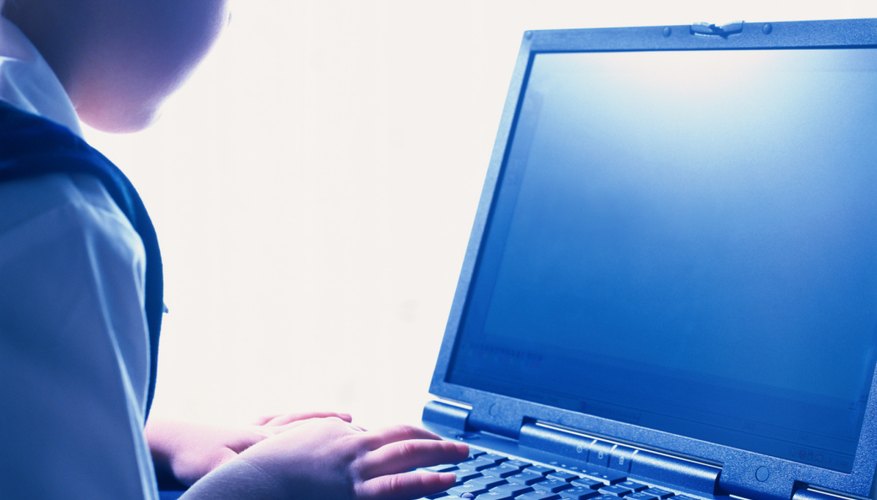 Screen time is when your child sits motionless while staring at a screen. As peaceful as the house might seem while your youngster watches TV or plays an electronic game, you need to consider the problems if your child spends too much time in front of a screen. The amount of time your child sits passively watching a screen can affect early childhood development.
Professional Recommendations
In 2011, the American Academy of Pediatrics reaffirmed an earlier recommendation about screen time for kids under age 2. According to the AAP, parents should discourage TV and other sources of screen time for children younger than age 2. For kids older than 2, the AAP recommends no more than two hours of quality screen time each day. What's "quality?" The AAP defines quality as "informational, educational and nonviolent."
Brain Development
During early childhood -- infancy and toddlerhood especially -- the brain undergoes a continual process of neuron connections, according to a publication by the Early Development Network. As these connections form, environmental exposures can have a significant effect on the number of connections and the quality of the connections in the brain. As the brain is developing, too much screen time might actually slow development and learning, according to the City of Mountain View website. Kids learn fewer words and score lower on skill tests with exposure to screens.
Attention Problems
In 2004, a study published in the Journal of the American Academy of Pediatrics reached conclusions about common outcomes for kids who watched daily TV at ages 1 and 3. Kids in the study watched an average of 2.2 hours of TV at age 1 and 3.6 hours of TV at age 3. The study associated this amount of screen time with attentional problems by the time these children reached age 7. Kids might have problems with concentration, restlessness and impulsive behavior. And don't discount the time you've got the TV going in the background, either. According to the National Research Center for Women & Families, any time the TV is on in the room a child probably isn't playing with the same concentration and intensity as the child would play if a television wasn't on.
Effects of Watching Violence
Children who view violent media on TV screens and in video games often have academic and behavioral problems. Up until about age 5, kids have a difficult time separating fantasy from reality. The images on a screen are real to these preschoolers, according to a University of New Hampshire publication. Kids who see violent media might also exhibit aggression, according to a study published in the Journal of the American Academy of Pediatrics. Kids often mimic what they see, so if kids are watching violence, they often carry out imitations in both play and in how they resolve differences with others.