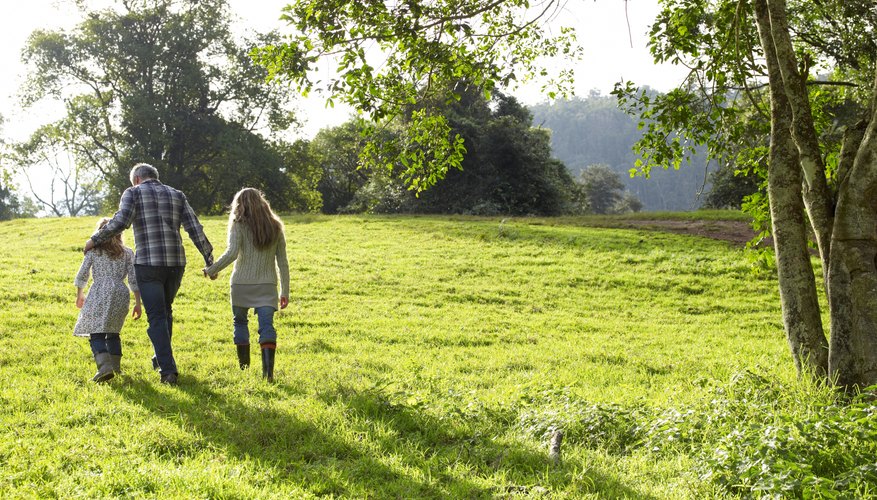 All parents desire a safe place to raise their children. When selecting the right state or city, parents can consider crime rates, education statistics or public safety policies. Finding the best location for raising children is well worth the research involved, and ensures that parents will enjoy the peace of mind that safety brings.
Peaceful States
According to the Institute of Economics and Peace, the most peaceful states in the U.S. are Maine, Vermont, New Hampshire, Minnesota, Utah and North Dakota. States are ranked based on homicide rates, violent crime, incarceration, police employees per capita and small arms ownership. The Institute of Economics and Peace found that the eight factors associated with peaceful environments were a well-functioning government, a sound business environment, equitable distribution of resources, the acceptance of the rights of others, good relations with neighbors, a free flow of information, high education levels and low levels of corruption.
Peaceful Cities
Parenting.com rated 10 cities in the United States for low crime rates and few registered sex offenders per capita. Of those cities, Seattle and Spokane, Washington, Minneapolis and Burlington, Vermont, are in some of the most peaceful states in the nation. Other cities cited for low crime rates include Portland, Oregon, Virginia Beach, Virginia, Fort Wayne, Indiana, Lexington, Kentucky, and Scottsdale, Arizona. This variety of locations ensures that parents can find the city with the right climate and environment to suit their family.
Best Safety Policies
Some cities go the extra mile to ensure the well-being of their residents. Parents looking for a safe location might consider a city's track record for fire and water safety, helmet laws and pedestrian safety. Cities with a high frequency of hospitals such as Boston might appeal to safety-minded caregivers, while the good environmental policies and air quality in Portland might interest others. Some cities have policies about carbon monoxide or smoke detectors in homes, increasing the safety of their citizens.
Safest Cities
The two cities appearing most frequently on every list of safe cities are Minneapolis and Seattle. Both are in the top 10 of the most peaceful states in the U.S. and they have a low incidence of violent crime, according to the Institute of Economics and Peace. Minneapolis residents enjoy a low number of pedestrian accidents and child burn rates are low. Single-family homes in Minneapolis must be equipped with a fire alarm. Seattle enforces bicycle helmets for all ages and boasts a rapid fire response time. Seattle's low fire and burn rates among children coupled with good air quality make the Emerald City an ideal spot for a growing family.