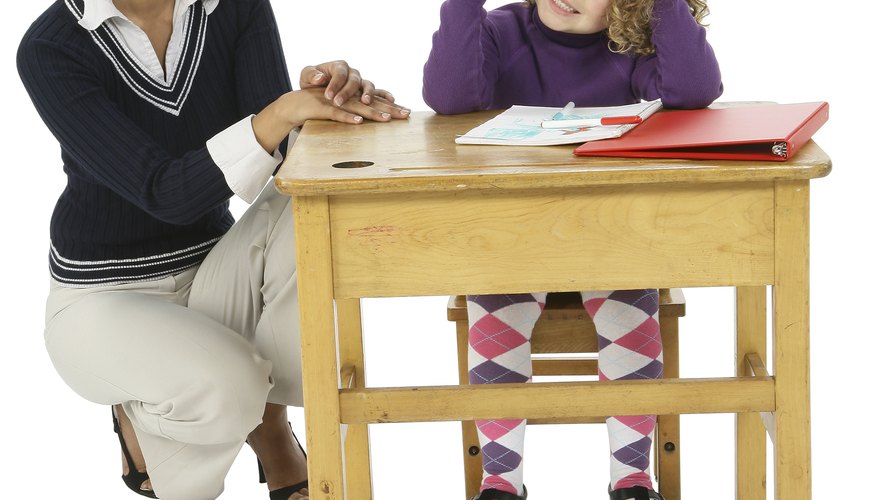 Etiquette comes into play when it comes to picking out an appropriate gift for your little one's educator. Cash gifts are inappropriate for teachers -- some schools have forbidden teachers from accepting cash or presents that are too lavish. Something small, thoughtful and handmade is a good way to show your appreciation to your teacher.
Have Your Child Make It
Teachers love handmade gifts and cards from their preschool students, especially ones that come from the heart. Apples are a common theme for teachers that can have your child's personal twist, if they are drawn or painted on mugs, tote bags or framed canvas. Help your child create a finger-painted masterpiece, or accompany them to a pre-made pottery store, where they can paint a figurine, glaze it and have it all fired up for a special gift.
Group Gifts
Pooling donations from parents allows them to get give the preschool teacher an expensive gift or a special gift certificate to her favorite restaurant, spa or bookstore while keeping all students on equal footing with the teacher. Pick a modest amount to ask parents to donate and ensure everyone knows this is a voluntary contribution, not a required one. Some parents might not be able to afford the same amount and no one should feel shamed into donating money they don't have for a teacher gift.
A Note of Appreciation
Teachers are accustomed to getting notes from parents with special instructions, concerns about their child or absence excuses. The kind of notes teachers really would like to receive are those of thanks and appreciation. A handwritten letter from you emphasizing how your child has been helped by her is enough to make her day.
Cook It or Bake It
Teachers need to eat, too. Home-baked cookies and cakes are always a safe hit, especially if they're made with care and lots of yummy ingredients. Many teachers love chocolate as much as their students do. Consider whipping up a batch of homemade fudge or chocolate truffles. Have your child decorate the box or wrapping paper for the treat to put her personal stamp on the delicious gift.
Personalize It
Print-on-demand websites can help you make your teacher a special gift with her name or initials on it. Shirts, tote bags, mugs and other small gifts are a good way to show your teacher appreciation without going overboard on the expense.