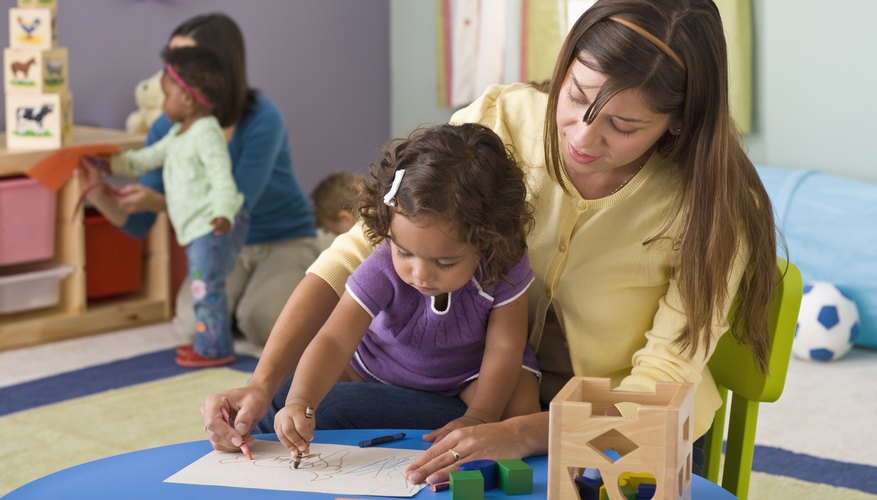 Potty training is a major emotional and developmental milestone in your child's life and you might worry about turning this task over to someone else. Relax. Most day care centers have well established policies for potty training and staff are experienced in guiding children through the process. Many children in day care centers are potty trained quickly because they learn from other children.
Licensing Rules
Child day care licensing falls under the jurisdiction of individual states. Most states address potty training within the licensing guidelines. For example, the state of Ohio's licensing requirements state, "Toilet training shall occur based on a child's readiness and consultation with parents/guardians regarding practices in the children's homes. The center shall ensure that toilet training is never forced." Visit your state's Department of Human Services or child day care licensing department to learn more about the rules governing potty training within your state.
General Policies
Potty training should not be started until a child shows signs of readiness, such as recognizing the need to toilet and being able to undress independently, according to the American Academy of Pediatrics. Potty training should be a positive, natural experience that is incorporated into the daily routine. Teachers can read books on potty training, talk about potty training and set up a regular schedule for toileting. Teachers should never scold or use harsh punishment when toilet training, but offer gentle, encouraging praise. Children should learn to wipe, flush the toilet and wash their hands with soap and water after toileting. Potty chairs are not recommended in day care environments, but small toilets are an ideal alternative. Toilets must be cleaned daily.
Parent Communication
Day care centers should collaborate with parents about potty training. The center's potty training policies should be clearly outlined in the parent handbook and staff should be sensitive to parents' cultural and family philosophies around potty training, according to the National Association for the Education of Young Children. Tell your day care provider the words you use for body parts and toileting at home to ensure consistency. Provide a supply of clean clothing for your child. Adequate nutrition can also play a role in potty training success. Eating plenty of vegetables, whole grains and fruit can keep bowels running smoothly.
Discrimination
Many preschools and day care centers have enrollment policies concerning potty training, such as that children must be potty trained to enroll in a preschool program. Under the Americans with Disabilities Act, day care providers cannot automatically deny enrollment to a child with special needs who is unable to become potty trained. In these situations, day care providers are asked to make reasonable accommodations so a child in diapers can attend. Unless a center can prove that doing so places an undue burden on the center or alters the basic nature of the program, day care providers must legally comply.