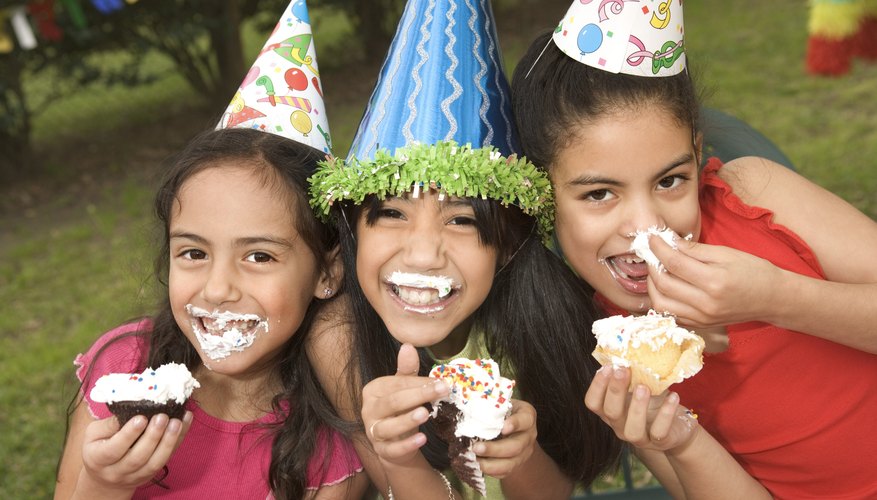 The phrase, "Everything is bigger in Texas," might apply to your next birthday party in Waco. The city has a number of locations for mega-size kid parties. Some cater to indoor play and others encourage outdoor fun. All locations have places for eating the birthday cake and focus on a range of child-centered activities. Many of the venues for family birthday parties work with you to ensure you've covered all the essential details for a large number of guests. Some places require a deposit to reserve your party date, and a few offer free facilities.
Outdoor Parks
Outdoor parks have unlimited potential for parties with long guest lists. North Waco's Jubilee Park has a lighted pavilion with picnic tables, playground and a sand volleyball court suitable for big birthday celebrations. Guests can have fun cooking on the park grills and playing basketball on the courts adjacent to the park. Jubilee Park has water, but no public restrooms. There's no charge for park use, but make reservations early to ensure you have your date. Registering your date requires proof of Waco residency. City of Waco Parks and Recreation also features 60 parks and 1,200 acres of parkland perfect for birthday partying. Some parks have water slides, pools, sports fields, playgrounds, meeting rooms, golf courses, soccer fields, basketball courts and gyms that accommodate large numbers of birthday guests. Most parks offer free space, but some require advance reservations for monster-size parties.
Bowling Parties
Grab your shoes, ball and party hat for a bowling party to fete the birthday boy or girl. Bowling alleys offer lanes for a half dozen players, and taking over all the lanes creates a huge party venue. Ask for balloon bumper liners for some of the lanes so the youngest party guests have a great game score without rolling any gutter balls. AMF Westview Lanes on West Waco Drive and the Lake Air Lanes on Bosque Boulevard have space for large birthday celebrations that include cake and pizza and both feature a number of lanes for large groups of party bowlers. The Waco lanes also have separate rooms for food and drink, so bowlers can dine without interrupting the game action.
Skating
Big birthday parties for guests who enjoy skating include taking over a skate rink for the afternoon or evening. Waco roller parties have a large venue for guests at Skate World. The venue has several preplanned options for parties that include skate rentals, drink and food, balloon bouquets and free play in the alley's arcade. The company also offers a free invitation program that use e-invitations to send announcements of the upcoming party.
Films and Fun
Party with favorite cartoon characters and film actors and a theater filled with your family and friends at an historic Waco location. The Jubilee Theater was built in the early 1900s, but the film venue offers a modern experience after a major renovation in 1990. Pick your favorite films on DVD and send out the invitations for a huge birthday party for film fans. The theater charges a deposit fee and rents the space by the hour, with a two-hour minimum rental policy. Parties of more than 100 birthday guests also need to hire security for the event.