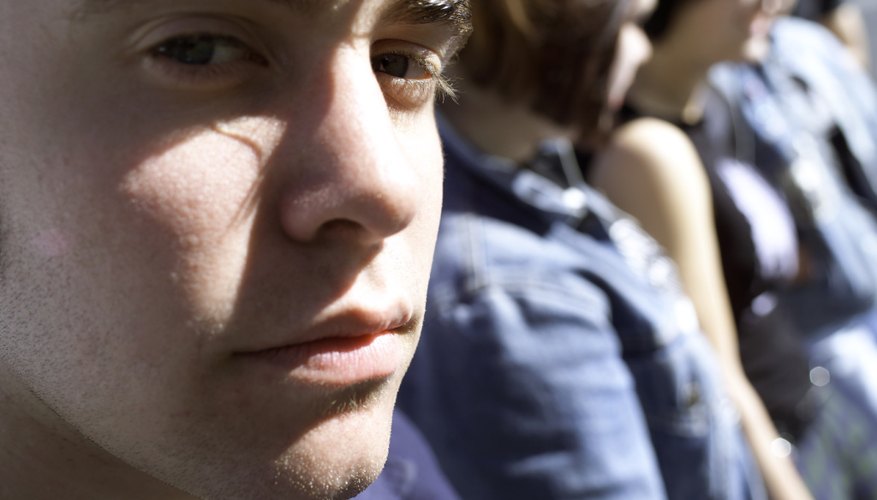 It can be a heart-wrenching decision to send a child away for treatment or education away from home. Sometimes, however, that's the best option for a kid who is dancing dangerously close to being part of the juvenile justice system or who is set on harming himself or others. Fortunately, a variety of options are available. Which one is right for your child will depend on his needs and the resources available to you to cover the costs.
Behavioral Health Unit
If you're looking for a temporary solution that will help your child during a crisis, a behavioral health unit might be the solution. This option is often open to families who are conflicted with knowing how to help a kid who is struggling with suicidal thoughts, is threatening to others or is self-harming. Your child can be assessed at an emergency room to see if he qualifies for this treatment option. You can also call the local behavioral health hospital and ask if assessment personnel can meet with you and your child. While your child is there, she will receive individual and group therapy and participate in educational and recreational activities. If her problem is due to a mental illness that responds to medication, hospital staff will work to stabilize her condition with the appropriate medicine.
Residential Treatment Center
Children who are repeatedly admitted to behavior health units or who otherwise have persistent mental health or behavioral issues are often eligible for placement in a residential treatment center. These facilities can be private or public, and stays can range from a few weeks to years. Insurance sometimes pays for treatment, and some states offer grants and other forms of assistance to families who need to consider residential treatment as an option. If your child has an individualized education plan, your school district may also pay for the placement if it is otherwise unable to meet your child's educational needs. Behavioral and educational services are offered at residential facilities, and staff work with children to help them to better manage their behavior in all aspects of everyday life.
Specialized Boarding Schools
Sometimes a child doesn't have a mental health illness that is causing the problematic behavior. She may need more structure than your family is able to provide in an environment that supports her special behavioral needs. In this case, a private boarding school that specifically serves troubled children can be a welcome option. However, be very cautious before enrolling your child in such a facility. While some are good, others are not. Watch out for schools that limit contact with parents and advocates, warns the Alliance for the Safe, Therapeutic and Appropriate Use of Residential Treatment on their website. Make sure the school you select is certified with state education authorities.
Wilderness Programs
Sometimes, an older child can benefit from a residential experience that teaches her self-reliance and builds esteem. The real-life challenges that these programs teach can often turn around the life of a teen who is on the road to a life of delinquency and poor choices. When selecting a wilderness program, talk to other parents whose child has already participated in the program to make sure it will be a healthy environment and serve your child's individual needs.