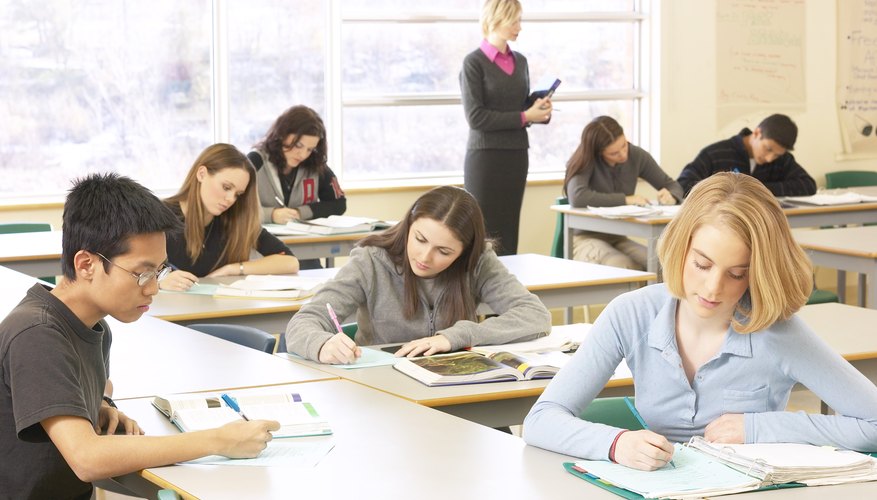 When your kids miss school -- whether they're faking an illness to get out of a big test or skipping school without your knowledge -- they miss out on an opportunity learn, stay up-to-date in class and engage with their peers. Truancy, in particular, is a concern, as it is often a warning sign for future delinquent activity, according to the National Center for Student Engagement. Help your kids make the most of school by encouraging attendance in a number of simple and effective ways.
Establish Clear Attendance Policies
Your kids' school likely has its own attendance policies in place. Go over them with your kids at the beginning of the school year, and give them a refresher any time they miss school. Establish your family's own attendance rules as well. Explain to your kids that they cannot miss school for any reason beyond being legitimately sick. Implement these rules every time, even when you have a child who seems perfectly healthy whining about a stomachache or headache.
Never Allow Skip Days
Don't let your kids get away with missing school, recommends the Collier County School District. Pay careful attention to your child, and only allow her to miss school if she is clearly sick. Take her to the doctor for confirmation of the illness. If she complains about being sick without any visible symptoms, send her off to school. Avoid starting a pattern where your child can play sick and get out of going to school.
Drop Them Off
When your kids take the bus or drive themselves to school, they have an opportunity to skip school and spend the day carousing. On the other hand, when you take your kids to school, you can ensure that they are dropped off at the school's doors every day, allowing you to force attendance. Take advantage of the car ride to school -- talk to your kids about what's going on that day and send them off to school with a positive and focused mindset.
Communicate With School Administrators
When you know your child's teacher or the receptionist in the front office, you'll be able to stop a truancy problem before it develops. The Collier County School District encourages parents to support education and be an advocate for their child. If you're concerned that he's missing school, talk to his teacher and other school administrators, and ask them to notify you if your son misses class -- if they aren't already doing so. Open lines of communication can ensure that your child attends school every day.