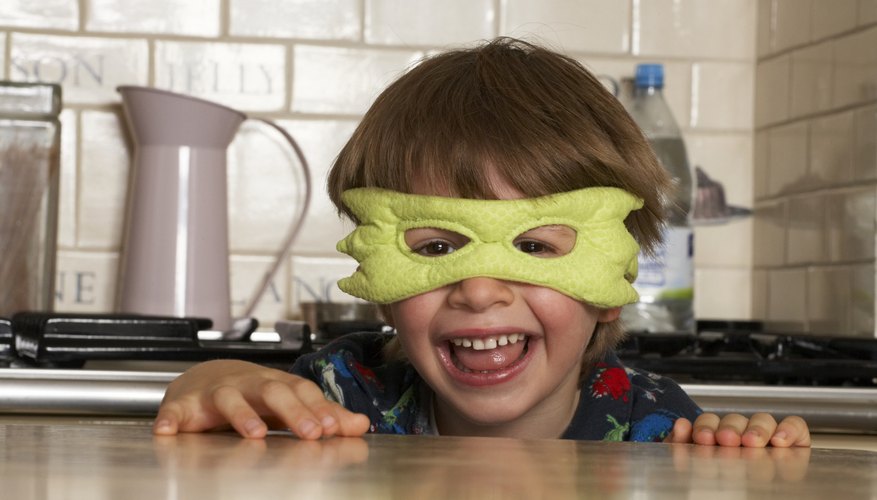 A huge milestone in your toddler's development is pretend play, and dressing up as a character really adds to the excitement and fun. We have all seen some ridiculous costumes, and the last thing you want to do is be that mom who embarrasses her kids with a shoddy homemade costume. With the right materials and a little imagination, you can make an incredibly authentic Jack and the Beanstalk costume, that will be sure to go down in family history.
Wrap the vine around the noodle as it would appear around a bean stalk. Glue it in place and let dry.
Spray paint the eggs gold and allow to dry.
Place the beans, coins and eggs inside the backpack, leaving it open for all to see. Glue a few eggs and gold coins to the outside so it is clear what is inside.
Dress your toddler or preschooler in jeans, a plaid flannel or tan shirt and the beanie cap. Put on tan boots for outdoor play or tan socks for indoor play.
Things You Will Need
A plaid, flannel or tan shirt
Jeans
Tan boots or socks
Tan beanie hat
Green pool noodle
Fake vine plant
Glue
A bag of beans
Gold coins
Foam eggs
Backpack
Gold spray paint
Tip
Carry around the beanstalk or tape it to the wall for a more permanent play set-up.
Warning
For a smaller child, cut out beans out of construction paper. You can also purchase fake beans meant for pretend play.