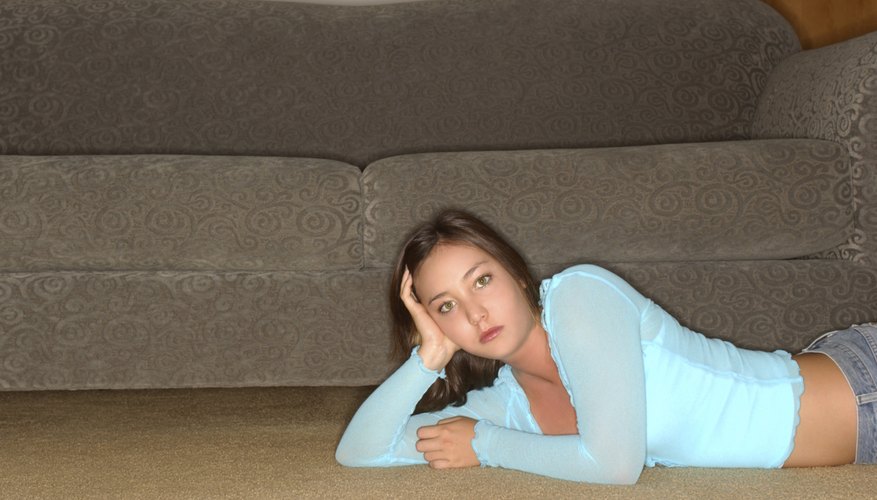 "I'm bored." Two words that parents of teenagers dread to hear. Fortunately for everyone, teens are more than capable of generating their own entertainment -- sometimes they just need a little encouragement. Here's a tip: Have your teenager brainstorm a list of activities that double as boredom cures. Cut the list up into slips of paper and stuff them in a jar. The next time your teenager is at a loss for what to do with himself, ask him to draw a suggestion from the jar.
Try an Experiment
Encourage your teenager to use her spare time trying out some scientific experiments -- not the kind that happen in a dull classroom laboratory but the kind you can do in the kitchen or backyard. See if it's true, for example, that diet soda explodes when you drop a few breath mints into the bottle. Several books like "The Book of Totally Irresponsible Science" by Sean Connelly, "The Ultimate Book of Saturday Science" by Neil Downie and "How to Fossilize Your Hamster" by Mick O'Hare will give your teen more than enough ideas to keep her occupied for weeks.
Get Sporty
The problem with sporting activities to relieve boredom is that they're often no fun when performed alone. This might be a hint to you as a parent to, say, challenge your kid to a one-on-one basketball or tennis game. Or play an interactive video game or work out to a home video. If you have a gym membership, ask if he wants to tag along.
Cook Something
If your teen likes to cook, suggest that she cook something new. Make it a snack or a treat rather than a meal to keep things fun. Find a never-before-tried recipe for a batch of cookies or brownies. Let her experiment with the slow cooker or ice cream maker. Have a chili cook-off, parents versus kids, and invite her friends over to judge.
Play a Game
Raid the games closet for some board and card games and spend an afternoon playing against your teen. Let him pick the game. Now's a good time to offer to teach him poker, too -- give him a chance to feel a little grown-up. Or go retro with childhood board games like Candyland or Chutes and Ladders or Sorry. You might be surprised at how much your teenager loves these "baby" games.
Get Crafty
Teenagers sometimes get a bit self-conscious about their artistic abilities or lack thereof, so this suggestion can be tricky. Give your teen a digital camera and ask her to put together a slide show. Offer a stack of magazines and some scissors and suggest a collage session. Some teenagers will naturally branch out from this sort of activity into scrapbooking. Others might enjoy tie-dying clothes, bedazzling a backpack or a pair of jeans, making designer soap bars or painting a mural on their bedroom walls.
Volunteer
It's never to early to learn how to give time and energy back to your local community, so feel free to suggest that your teenager volunteer for a cause. Parks and zoos often need teenage volunteers to help with their programs, as do local food banks, senior centers and elementary schools. Or your teen might be more interested in politics, in which case point him towards someone's election campaign or petition drive.