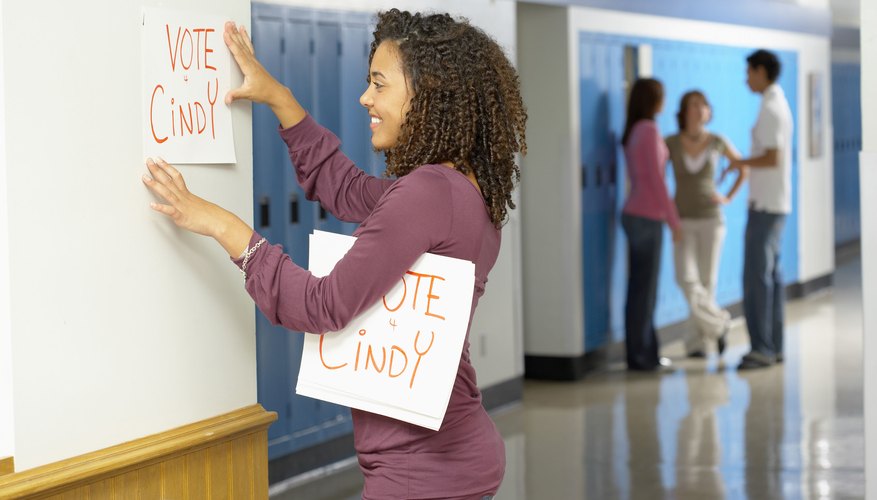 Your child may want to run for a student council office sometime during her school years. Encourage her participation to run by helping her prepare for her campaign. You can assist her with creating her own eye-catching campaign posters to draw the student body's attention and to get her plenty of votes.
Patriotic Poster
Kids can follow suit after actual presidential candidates and show their American pride with a patriotic poster. Let your child choose a red or blue poster board as a background. Have her place a photo of herself in the center dressed as Uncle Sam or Betsy Ross. She can decorate the poster with metallic star stickers and paste red, white and blue streamers to hang from the poster's bottom. Have her write a patriotic slogan on the poster to grasp the attention of fellow students, such as "Whether you like red, white or blue, I'm the candidate for you."
Acronym Poster
Every child has positive qualities that will make him an ideal candidate for the student body. Your child can share these characteristics by creating a name acronym on his poster. For each letter in his name, have him think of a trait he possesses that will draw other students to vote for him. For example, if his name is Chris, C can stand for "Charismatic," H can stand for "Honest" and so on. Let him print the acronym on the poster in large letters. He can place pictures, surrounding the acronym, of himself in action among the student body such as helping other kids with their homework.
Wanted Poster
A cowboy-themed campaign poster will offer a fresh approach to traditional campaign posters. Let your child create her own wanted poster as a funny way to draw the student body's attention. Have her type, "Wanted For Presidency" at the top of a plain piece of paper and use computer software to center a black and white photo of herself in the center. Underneath her photo, she can type, "Reward: Making a Change For Our School." Print out the poster to hang. To give the poster an aged appearance, have her crumble the paper, tear off the edges and wipe a wet tea bag across it.
Movie Poster
Movie posters draw movie goers to see an up-and-coming new film. Have your child use movie posters as inspiration for his own campaign poster. Let him choose a movie genre or a favorite movie and incorporate his poster around it. For example, he could choose a superhero movie theme and place a picture of himself dressed as a superhero, in action, in the center of the poster. Have him write, "Coming Soon" at the top and his presidential promises around the photo such as "To Knock Out School Bullying starring (Insert kid's name)." Let him use the election deadline as the movie release date.