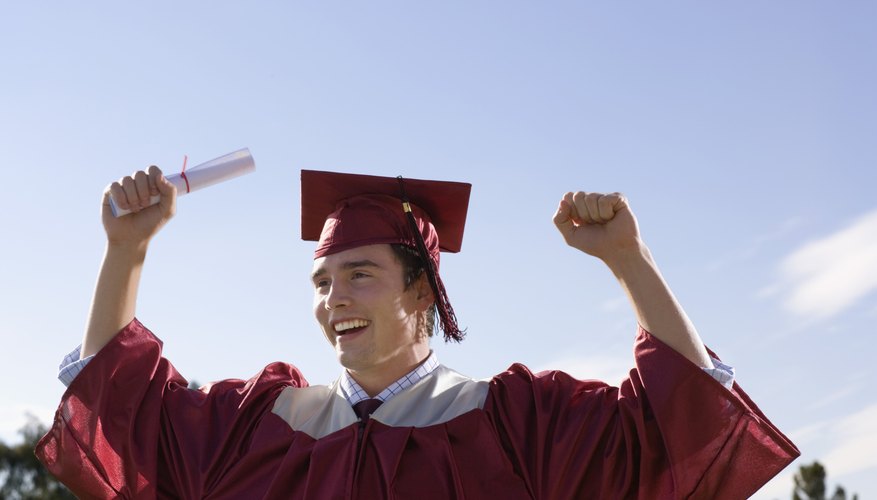 In many cases, teens are more interested in video games, dating and choosing the perfect prom dress than setting and realizing personal, educational or professional goals. Use enjoyable and challenging activities to help your teenager realize some short- and long-term goals, and how to make his dreams a reality.
When I'm 30, I Want...
Help your teen realize his long-term goals by participating in an activity called "When I'm 30, I Want." Provide your teen with a piece of paper and pencil and ask him to write down the personal, professional and educational goals he would ideally like to achieve by the time he's 30. If he's struggling, help him by asking him questions about his desired career path, whether he'd like to be married or have kids or if he'd rather start his own business. Once the list is complete, talk through the steps necessary to make these long-term goals a reality, such as finishing high school with impressive grades, getting into a top university or landing a summer internship in a particular field.
Weekend Goals
Help your teen understand that in many cases, setting short-term goals is just as critical as planning for his future. Organize a weekend goals list for the next two, three or even four weeks. For instance, add donating unwanted gadgets and clothing to a local charity or cleaning out the garage to the list. Work through the list and explain how achieving these short-term goals will have positive consequences. Donating to a local charity not only provides a sense of pride, it also makes room for a new video game system your teen wants. Cleaning out the garage will earn the teen money to spend with his friends once the chore is complete.
Dreams and Aspirations Collage
Use a simple art project to help your teenager realize his goals and aspirations for his future. Gather together old magazines and instruct your teen to clip out images and words he finds inspiring, or fit into his future career, educational and emotional goals. For example, your teen might clip out a photo of a baseball if he'd like to play professionally. Remind your teen that no dream or aspiration is off limits, even the goal of owning a mansion or expensive luxury car. Provide your teen the supplies necessary to create a collage with the images and hang the artwork in his bedroom. Remind your teen each time he becomes frustrated with schoolwork that if he wants to achieve these goals, hard work and determination are necessary.
Overcoming Obstacles
Teach your teen about the hardships and joy that accompany overcoming life's obstacles. Set up a "real life" obstacle course in your backyard. One obstacle could be "finding money for college," while another could be "working through a difficult breakup." As your teen approaches each obstacle, help him find ways to work through the problem. Your teen could get an after-school job to help pay for his college education.