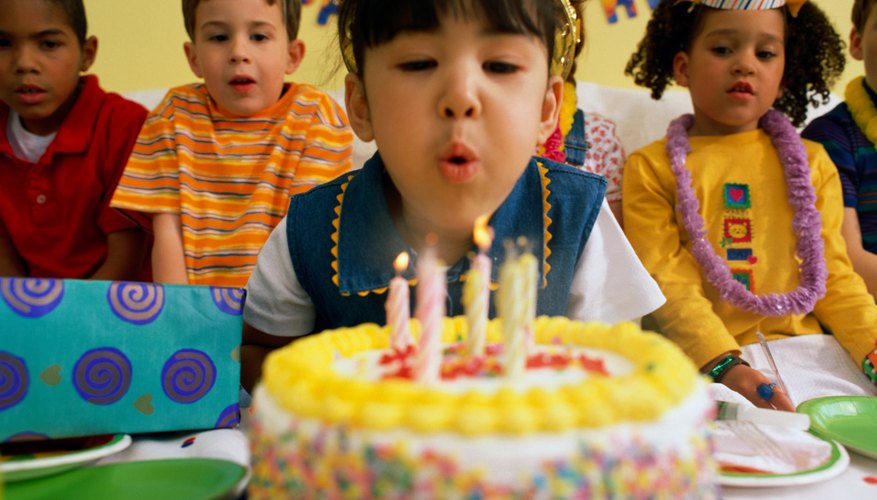 Party venues for kids' birthdays must accommodate all the party guests and their parents, and your home might not be spacious enough for kids to run around in. Select an indoor or outdoor party venue that offers more variety and excitement than a private home can.
Outdoor Venues
A child who enjoys the outdoors will appreciate a party venue that incorporates aspects of nature. You can plan his party at an apple orchard. Young party guests can pick their own apples and then take a hayride around the orchard. Or, they will have fun wandering through a hay bale maze. Consider party at a petting zoo where children will learn about the eating habits and living habitats of sheep, goats and other animals, or at a horse ranch where the birthday child and friends can ride. A local playground is also an ideal venue and kids can have a picnic under the trees or in a picnic area. Alternatively, plan a party at a nature center. Kids can go on nature walks and plant their own flowers. Some centers may even plan a scavenger hunt for them.
Restaurant Venues
An eatery is an ideal party venue for a birthday child who is an aspiring chef or baker. Plan her celebration at a specialized bakery that also offers parties. Children will learn baking basics from a pastry chef and can watch him decorate cakes. Each child will also have an opportunity to decorate his own individual cake. If the birthday child loves pizza, book a party room at a pizzeria. Kids will enjoy making and eating their own personal pizza pies. Having a party at an ice cream parlor will be a kids' activity and birthday dessert for them to eat all in one. A local fast food restaurant is an ideal party place for a cheeseburger lover. The venue sections off tables for dining and kids can play in the restaurant's play area after they eat.
Sports Venues
Book a room at a bowling alley for a kid and his friends to mingle before playing a few games. Ask for bumper bowling for young party guests. Preteens will enjoy cosmic bowling. The venue turns off the lights and then places glow-in-the dark pins on the lanes for the players to knock down. A miniature golf center as a party venue lets children putt a golf ball through an 18-hole obstacle course with ponds, waterfalls and themed props. Ice skating is ideal for someone celebrating a winter birthday. Or, plan a party at an ice skating rink. Have a kid who loves martial arts? A martial arts studio is ideal for children who love karate. .
Entertainment Venues
The birthday child and her friends will never have a dull moment at a movie theatre. Let the birthday child select a movie, and then she and her friends can discuss their favorite parts of the movie in the theatre's party room. Game centers also keep kids engaged for the duration of the party. Give the kids with game tokens for different arcade games, such as skee ball. A birthday child who loves music and singing will light up everyone's life at a recording studio. She can sing favorite tunes along with her friends and record a CD to take home. For a young drama fan, invite friends along to see a Broadways show and eat at a nearby restaurant. Party packages often allow discounted ticket rates and autographed cast pictures for the birthday child.