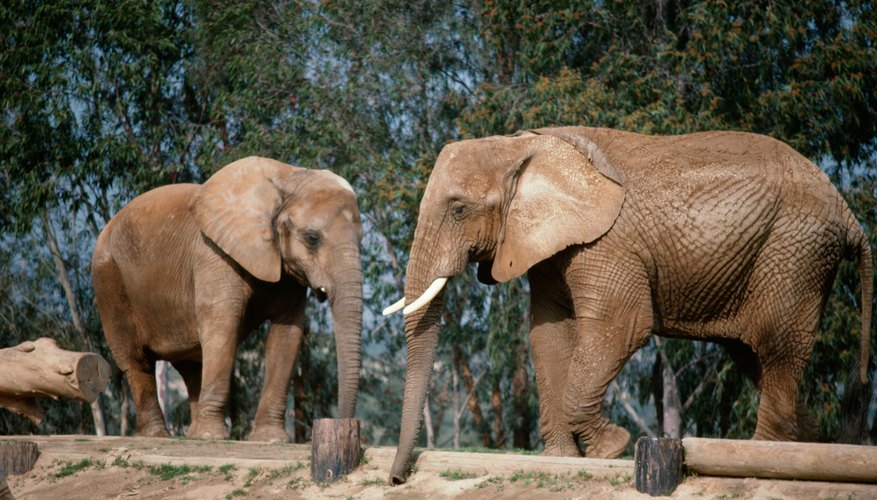 After nightmare grocery shopping trips and embarrassing behavior in stores, the last thing you might want to do is to take your 3-year-old anywhere else, but when the focus is on fun, he isn't as likely to give you a hard time. In fact, you should take your child lots of places because it helps him learn about the world around him. If you really think about it, there are probably numerous places that would delight your 3-year-old. You never know, you might have the time of your life too.
Animal Attractions
Spend the day interacting with animals and your 3-year-old is sure to have a great time. Head to the zoo and let your child choose what animals he wants to look at. Let him spend as much time watching them as he wants. He'll be engaged - and he'll be learning too. Seeing animals up close and in person is one of the best ways for your little one to learn more about her favorites. An indoor aquarium can serve the same purpose. If your child likes ocean animals, such as sharks, an aquarium is a good way for him to interact with the swimming creatures. Petting zoos let your child get even more personal with animals. Just make sure he washes his hands when he's done, because, let's face it, as cute as they are, animals are pretty gross.
Outdoor Attractions
Most cities and towns have botanic gardens, and usually the gardens have activities planned for young children, such as butterfly releases, bug exhibits and chances to get down and dirty planting seeds and flowers. Seek out nature preserves in your area so your 3-year-old can see native animals up close and personal. Go to a pool in your area and have some fun splashing with your child. Water parks and amusement parks often have areas dedicated to small children with playgrounds, games and age-appropriate rides.
Museums
Most large cities and towns have museums designed with children in mind, or at least a section of an adult museum that lets kids be kids. Take your 3-year-old to an art museum where he's allowed to make his own creations or head to a children's museum that has hands-on science experiments. Look through your local events page in the newspaper or online to find special events through local museums. Many of the events are geared toward children and include free activities that teach them about various concepts such as space, dinosaurs or rocks.
Free Places
There are oodles of free places to take your kids besides the playground. Take a trip to the library. Snuggle up on a comfortable chair and read your 3-year-old a few books. Check out a couple more books to bring home. Call the fire station in your neighborhood and schedule a free tour. The fire fighters will probably let your child climb on the engines too. Your child might enjoy a visit to the police station as well. Head to a lake or river with a bag of stale bread and feed the ducks and geese. If the lake allows wading and swimming, put a life jacket on your child and do some splashing or stand still and watch for fish.