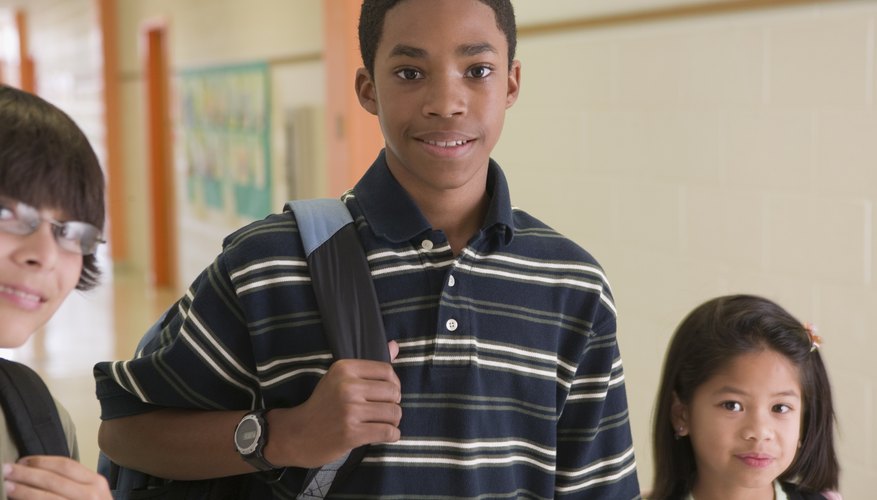 Just because your child is too old to have you come in to her class and read during circle time doesn't mean that you have to stay away from school. Parental involvement in the student's academic life can lead to higher grades, increased test scores and a better sense of self-esteem, according to the Michigan Department of Education. If you are looking for ways to get involved in your middle schooler's education, there are many activities to try out.
Considerations
When planning middle school family involvement activities, parents must take the child's maturity level, interests and social ties into account, says the national parent-teacher organization PTO. Planning an event or activity that would appeal to a first grader, such as a class circus, won't go over well with the seventh grade set. Additionally, middle schoolers are well on the road to social independence and may feel that their friends are more important than their family members. Although mom and dad are still key, middle schoolers may enjoy events that allow them to socialize more with their peers than stick with their parents. Family involvement doesn't mean that you need to hold your tween's hand as you walk around a school fair or other event. Instead, the main goals need to focus on letting your child know that you have an interest in his education and the school setting.
Sports Activities
Sports activities can easily appeal to a broad cross-section of middle schoolers, including those that don't participate in formal school-sponsored athletics. If you are planning a family activity for your child's middle school fundraiser or a special event to get moms and dads involved, consider something sporty. Create a fun-filled event that will appeal to the tween's sense of humor such as a faculty and parents vs. students ping pong tournament or a Halloween costume dress-up basketball game. Instead of making the sports activities super-serious or ultra-competitive, aim for a more light-hearted approach that allows everyone -- even the non-athletic types -- to participate.
Career Day Activities
Although your middle schooler is far from choosing a career, you can create a family involvement activity that helps to prep her for what the future has to offer. While middle schoolers aren't exactly at the same point as a high schooler when it comes to looking at potential colleges and thinking about adult employment, they are starting to think about the future. Instead of filling career day with dull lectures by professionals that the kids may not find interesting, ask the students who they want to learn from. Take a poll or have them make a list that features top career options. Try to match up some of the most poplar choices with parents who would like to speak to the kids.
Fundraisers
Fundraising is a primary activity that most parent-school groups must do in order to fund other events and special projects. Why do the same old gift wrap or candy bar fundraiser that the kids have done since kindergarten when you can come up with a creative idea, that also happens to get the families involved? Hold a school-wide bake sale that features prizes for the most imaginative cake design or wackiest cupcake flavor. Encourage the kids and parents to work as teams to make the baked goods, and appoint teachers or school administrators as judges. Another option is to have an Earth Day or eco-friendly fundraiser. Fundraising organizations such as Planet Green have programs that pay schools for sending them used small electronics, cell phones and inkjet printer cartridges. Paint posters, set up a collection station -- or have a family collection day -- and make money for your school's parent-teacher group by helping out the planet.