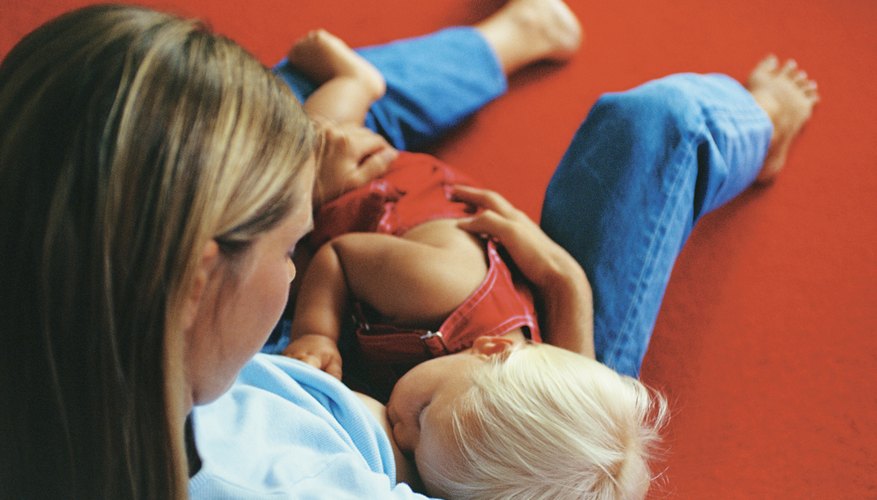 Resisting the temptation to drink alcohol during pregnancy and breastfeeding can make the difference between raising a healthy and unhealthy child. Although there is conflicting advice on the effects of alcohol consumption on a baby, Elizabeth LaFleur, an expert at Mayo Clinic observes that even little alcohol in breast milk is unsafe for your baby. Research indicates that alcohol consumption can decrease your milk production, impair the motor development of your baby and alter her sleeping patterns.
Low Supply of Breast Milk
The nutritional value of breast milk can't be replaced adequately by any other food, according to a 2005 article published by the Natural Resources Defense Council. It improves the immune system of babies and reduces the probability of sudden infant death syndrome. Consumption of alcohol can reduce the volume of milk production, affirms the National Institute on Alcohol Abuse and Alcoholism. When breast milk is low in supply, your baby might not fully benefit from it. This can leave her vulnerable to infant diseases that can affect her development. It is healthy for you to avoid alcohol to improve the supply of breast milk for your baby.
Change in Sleep Patterns
It is easy to predict when your baby is going to sleep or wake up when she has a definite sleep schedule. However, if she has an unpredictable sleep pattern, it could be because you are consuming alcohol while breastfeeding her. According to a 2001 report published by the National Institutes of Public Health, breastfed infants experience significantly less active sleep after exposure to alcohol in their mothers' milk than do breastfed infants not exposed to alcohol. If you have to drink alcohol, do so just after breastfeeding; alcohol clears from breast milk during the natural intervals between breastfeeding sessions.
Motor Development
There is a link between maternal drinking and delayed motor development in breastfeeding infants, insists the National Institute on Alcohol Abuse and Alcoholism. According to a1989 study, researchers established that motor development was slightly, but significantly, altered in breastfeeding infants who were exposed regularly to alcohol in their mothers' breast milk. Alcohol in breast milk can affect the development of your baby's essential human skills such as walking, sitting and running. To be consistent with your desire of raising a healthy child, keep alcohol away from your menu. Make your baby's health your number one priority.
Brain Development
Drugs.com, a website for drug information, suggests that your baby's brain development can be affected if you drink large amounts of alcohol while breastfeeding. An infant's brain keeps developing after birth. In order to give your baby the best chance for healthy mental development, refrain from consuming large amounts of beer or wine. Allow your breast milk to be as natural as possible, maintaining all the special properties that are key to your baby's nutritional growth.