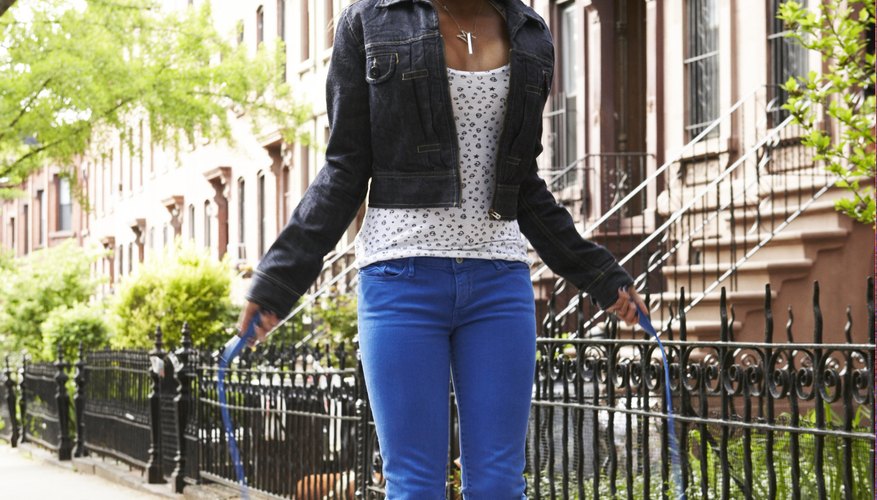 If your teenager would rather not put her stomach, cleavage, thighs or other body parts on display for public scrutiny, you can help her dress conservatively while still keeping up with fashion trends. She can still fit in and feel good about herself without having to show more skin than a naked mole rat. In fact, it's quite possible that the de-emphasis on her physical attributes will help her find the value in the other aspects of herself that make her awesome.
Pick up tank tops so your teen can keep up with modern styles by layering her clothing. Low-cut shirts reveal cleavage and see-through shirts reveal even more. Throw on a tank top underneath a daring shirt to make it instantly appropriate for your teen's conservative style.
Reduce your teen's chest exposure with silk, knitted or jersey knit fashion scarves. These look stylish and sophisticated, draw the eyes upward and keep your teen's chest modestly covered.
Pair a knee-length skirt with a pair of calf- or knee-high boots. The combination covers up the legs while keeping your teenager feeling fresh, fashionable and ready to strike a pose.
Wear a cardigan or bolero with a strapless or spaghetti-strapped dress or shirt.
Pick up a swimming dress and skip the skimpy bikini in the summer. The dress isn't just a swim cover-up; it can be worn in the water and covers the entire torso to the upper thigh.
Give yourself and your teen plenty of time to shop around when you're buying clothes. It might take a little bit of window shopping to find outfits that are both conservative and fashionable.
Have your teenager try on clothing at the store before she brings it home. Sizing is not an exact science and there is no such thing as a universal sizing chart. A size small shirt from one brand might fit comfortably while it hugs every curve from another. Try on everything to ensure the clothing fits comfortably without revealing every curve and dimple.
Sew in a little lace or a ruffle to cover a low neckline or take down the hem of a too-short skirt. If you're handy with a sewing machine, you can help your teen transform "must-have" items into conservative apparel.
Things You Will Need
Tank tops
Silk, knitted or jersey knit scarves
Knee-length skirt
High boots
Cardigan or bolero
Swimming dress
Tip
Add some pizzazz to any outfit with bright and beautiful accessories. If your teen doesn't feel that her conservative outfits have much flair, a colorful, oversize pendant necklace or a chunky bracelet chain will brighten them up, and hair accessories covered in sparkling imitation gemstones will help her stand out from the crowd.