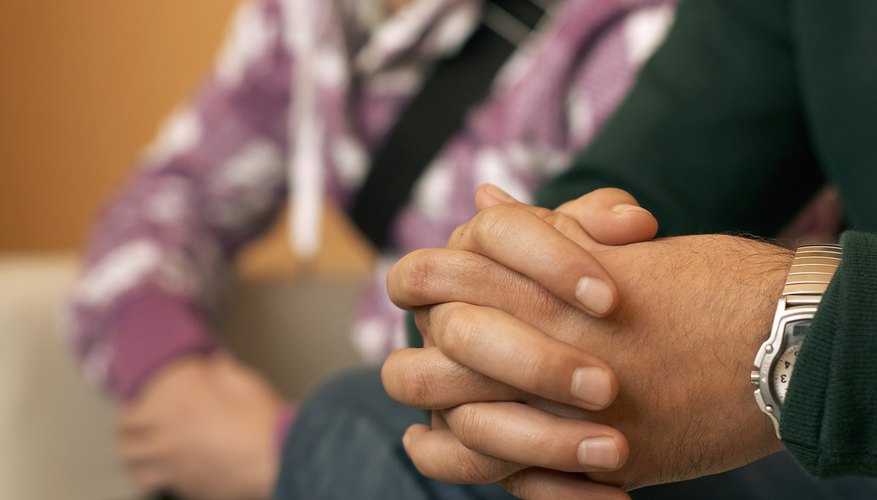 It might seem like the second your child becomes a teenager, he's suddenly moody, doesn't want to listen, doesn't want to be seen with you or just won't communicate with you. While you might be quick to blame it on your child's diagnosis of autism, these symptoms are actually what one might call "being a teenager." However, when you add autism to hormones, you might end up with some disciplinary issues that need to be addressed.
Routines
As a parent of a teen with autism, you're no stranger to the idea of routines. Your teen will likely put up a fight regarding his bedtime or taking showers, so you need to find the middle ground between "You're a teenager now, so you can do what you want" and "I'm the boss, so do what I say." Stick to a regular bedtime and a schedule that encompasses your child's extracurricular activities and time for schoolwork. Start preparing your teenager for independent life by slowly adding chores like doing laundry or tidying his bedroom.
Remove Privileges
Simply removing all privileges for any offense is confusing for a teen with autism; the punishment must fit the crime, and all details should be outlined in a clear and concrete manner. You must tell your child what privilege is being taken away, why you're doing it and how long it will last. This way your child will learn what behaviors are not appropriate, and the punishment will serve as reinforcement to avoid such behaviors in the future.
Provide Outlets
Neurotypically developing children often have an arsenal of tactics to help them choose how to behave in a particular situation -- too often, teens with autism do not have these outlets and might respond to events such as bullying or an argument with you in a negative way. By teaching your teen ways to handle each situation, you will help him eventually gain his own bag of tricks. Practice meditation, encourage journaling, find extracurricular activities your child enjoys and schedule appointments with your child's therapist.
Demonstrate Interactions
You likely often find yourself outlining events in specific details for your teen so he understands what you say. Continue this practice and focus on ways your teen can interact with you and his peers. If your child resorts to hitting when he becomes angry, say things like, "You can't hit your peers, but you can take a walk or talk to a friend." Focusing too much on "don'ts" can elicit oppositional reactions, so provide alternatives, or encourage your teen to think of ways he can calm himself down or respond appropriately if faced with a bully or other difficult situation.
Reinforcement
Even when it seems like your teen isn't listening, provide him with verbal feedback. Make it specific by saying something like, "I noticed you cleaned your room without me asking -- that's great" or "I loved it when you just looked me in the eye and smiled." It is easy to focus too much on the negative aspects of your child's behavior, but paying more attention to what your child does right will increase the chances that appropriate behavior will repeat.