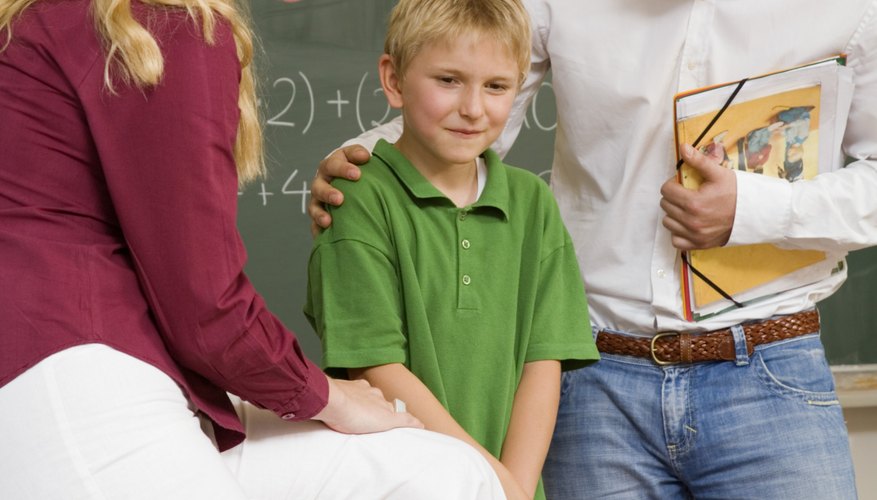 You plan her first day outfit, pack her supplies just so and send her off for her first day of school. What you don't expect is a nightmare teacher or an out-of-control classroom. You may find your child in a negative classroom situation for a variety of reasons: personality conflict with the teacher, other students who are out of control or a teacher who generally doesn't care and creates a negative environment. Before rushing to request a new teacher, however, get a clear picture of what is happening and what needs to change.
Talk to your child about what happens in the classroom. Document incidents when she reports them to you so that you have a record of all of the negative things that happen. When you request a change of teacher assignment, you'll have evidence to support your request.
Observe the teacher in action. She may be on her best behavior with a parent in the room, but you will likely see glimpses of the things she does that make it a negative environment for your child.
Talk to other parents about the experience their children are having in the classroom. This can help you determine whether the teacher's behaviors are creating a negative learning environment in general or if she is just not a fit for your child's learning needs.
Meet with the teacher to discuss your concerns with your child's experience in her classroom. Avoid accusing her or being too assertive. Present what you see and what your child tells you to get her take on the situation. Say, "My child is having difficulty in your classroom and has told me about some incidents. Can you explain the situation to me so I can understand better what is happening?"
Weigh the pros and cons of switching your child if you still feel it is the best option for her. You may feel a new teacher is the solution, but your child may feel scared, nervous or sad about moving to a new classroom. She leaves behind all of the classmates she was used to seeing each day. She becomes the new kid in the class she joins. Determine if you feel your child is emotionally ready to move to a different classroom.
Schedule a meeting with the principal if you are certain you want your child moved after meeting with the teacher. Present the principal with the information you gathered from your child, your observations, other parents and your meeting with the teacher. This shows her that you did your research instead of simply storming her office demanding a change. Let her know you would like your child in a different classroom. Ask about the other teachers to determine which one would be a good fit.
Sit in on the other classrooms at that grade level to get a sense of other teachers' teaching styles. Consider your child's personality to decide which teacher would be the best fit.
Meet with the principal again to discuss your observations and preferences in teacher. You may not get your first choice, or the principal may resist switching your child at all. Stand firm on your decision if she pushes you to keep your child in her current classroom, especially if you feel the environment is detrimental to your child's learning.
Tip
Your child may cry or seem upset when she initially switches to a new classroom. Work with the teachers, principal and school counselor to help her with the transition.