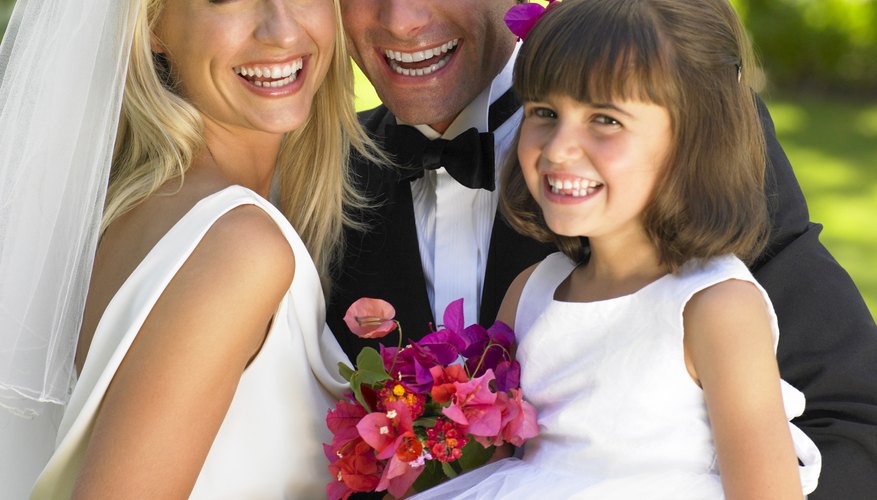 Becoming a blended family is not an easy process for the adults or the children in the situation. Some children find the adjustment harder to handle then others, especially if they are used to having one or both of their parents all to themselves. If you are preparing to transition your children into a blended family situation with a new stepparent and siblings, children's books that deal with these complex issues may help your kids better understand the changes and address fears.
New Marriage Books
Help your young child get through the fact that you or your ex-spouse is going to be getting married again. For girls ages 6 and older, check out, "Flour Girl," by David Michael Slater, about a little girl who thinks the worst when her daddy asks her to be the "flour" girl when he gets re-married. She is determined to use her new title to ruin the wedding plans and keep her daddy all to herself. For boys ages 4 to 8, the book "Ring Bear," also by David Michael Slater, follows a little boy who is unhappy about his mom getting married again and plans to live up to his "ring bear" status by acting like a bear to ruin the wedding ceremony. In both stories the children learn how important they are to their parents and that their new stepparent is an added bonus to their lives.
Stepparent Fears
For books that focus on children overcoming fears about a "mean" step parent, check out, "The Not So Wicked Stepmother," by Leslie Allgood Veneble. The book, appropriate for kids ages 7 and older, follows two sisters who fear that their future stepmother could turn into the evil stepmother from Cinderella. The book, "Stepdaddy!" by Libby Tyree, describes activities that stepdads and stepkids can do together and also teaches kids that it is okay to love their dad and still love their new stepdad as well. Another book to check out is "My Fairy Stepmother," by Marni Prince, about a stepmom who saves the day when a little girl has trouble sleeping. In this fairytale, the stepmom is a hero for once, instead of evil.
Stepsiblings
For kids ages 3 and older, the book "Do You Sing Twinkle?" by Sandra Levins, addresses, among other things, a little boy's struggle with accepting his new stepsiblings when his mom remarries and missing the other parent when he is not with them. Another book to check out, for children ages 5 to 7, is "Amy Meets Her Stepsister," from the Critter Club series by Callie Beckley. In the story, Amy learns her father is remarrying and meets her future stepsister, who is mean and cold towards her. In the story, Amy learns the reasons behind her anger and how to get along better.
Dealing with Two Families
Many children struggle with living in two different homes regularly due to a joint custody arrangement. Check out books that can help get them through, such as "My Two Homes," by Claire Masurel, for kids ages 3 to 7 years old. The books shows a little boy's perspective of his two homes, focusing on the positive aspects of both and knowing that he is loved by both parents, no matter where he is. "We're Having a Tuesday," by DK Simoneau, for children ages 2 and older, tells the story of a little girl who learns how to deal with her mixed feelings on Tuesdays, when she has to make the switch between her parent's houses.