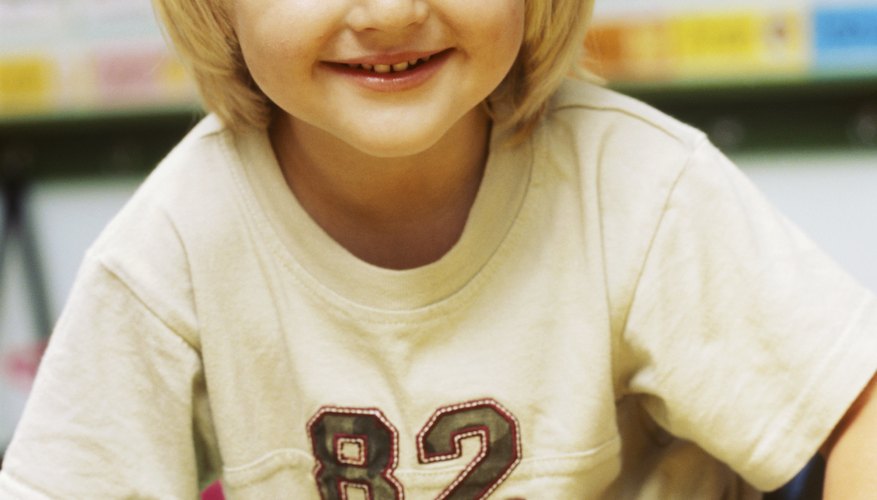 Planning a shape collage activity gets your preschooler's fingers working while acquiring valuable knowledge and skills. According to Scholastic, shapes and colors are a way for children to observe, identify and categorize the world around them. One of the best ways for her to learn to identify shapes is to play and create with them.
Square Collage
A square window collage offers a learning opportunity while creating a colorful house decoration. Cut several 1-inch squares out of multi-colored tissue paper. Cut two pieces of contact paper so they're each a 1- to 2-square-foot section. Peel the backing off one piece of contact paper and lay it sticky-side up on your child's work surface. Explain to her that she should place the tissue squares on the contact paper. Once she has a layer of tissue paper covering the square, peel the backing off the other piece of contact paper and place it directly over the decorated square. You can tape this to the window when she's done.
Circle Collage
Get the ball rolling with a circle collage. This circle project has a built-in treat in the end. Grab a paper plate and cut the inner circle out along the plate's ridge where it starts to curve up at the edges. This should create an "O" shape. Let your kiddo squeeze some white glue on the paper plate or paint it on with a paintbrush. Offer a couple handfuls of colored O-shaped cereal and allow her to place the pieces on the glue. If there's any cereal left over after the craft, she can eat them as a snack.
Rectangle Collage
Recycled art can pack an educational punch, too. Take an old magazine and create several rectangle shapes from the pages. Hand your kiddo a glue stick and a rectangle cut from a flattened cereal box. Ask her to glue the rectangles onto the cardboard to make a patchwork quilt. She can overlap the pieces if she likes or line the edges up as she goes.
Triangle Collage
Get those little fingers messy with a shape painting collage. You will need a piece of white construction paper cut into a triangle shape. Each of the sides should be at least a foot long. Cut a clean household sponge into triangle shapes. Squeeze a few colors of non-toxic acrylic or tempera paint onto a paper plate and allow your child to use the triangle sponges to paint the paper.