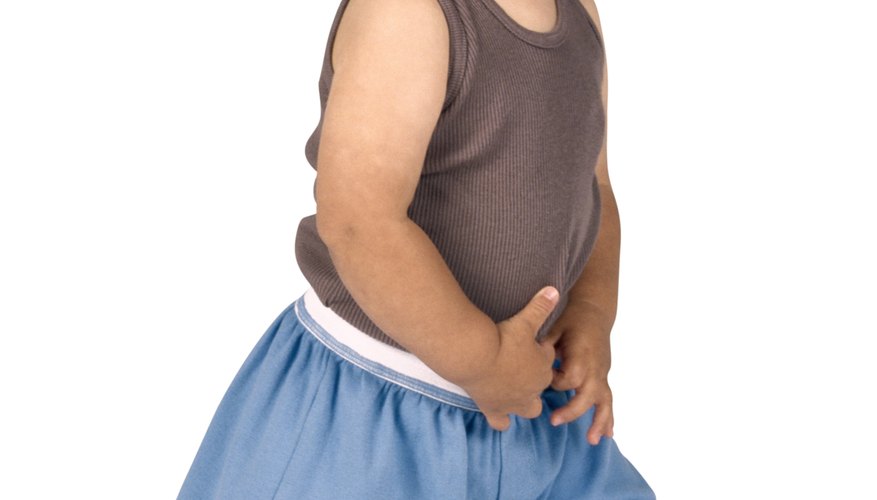 Comfortable clothing is a must for little bodies on the go. Parents know that a toddler can wreak havoc on his wardrobe, so durable clothing that is easy to wash is an essential consideration when choosing a child's garments. The best undershirts for busy toddlers are easy to clean, soft to touch and comfortable to wear.
Fabric
Lightweight fabric is best when selecting clothing for young children. Cotton or cotton blends are ideal because they allow moisture to evaporate from the child's skin. They also tend to wash well at higher temperatures, according to the Virginia Cooperative Extension. Stains can be removed easily from cotton fabrics. The experts at Consumer Reports note that cotton can shrink as much as 10 percent in the washing machine, so parents might choose to purchase shirts that have been pre-shrunk, or buy a size larger than their child wears.
Clothes for Moving Bodies
Toddlers beginning to explore their world need clothes that will move with them, not against them. The National Network for Child Care recommends clothes that don't bind and will stretch to allow for a child's movement. Expandable necklines can encourage little ones who are just beginning to dress themselves. Garments should contain as few seams as possible, and these should be well finished without being bulky. Collars should be narrow and remain flat for a child's increased comfort.
Girls' Undershirts
Parents shopping for a little girl can appreciate the variety of items they are able to choose from. Most brands feature tagless undershirts to prevent discomfort. Brightly colored tanks, made from lightweight cotton, might appeal to a little girl's desire for pretty clothing.
Boys' Undershirts
For toddler boys, white undershirts and tanks with preshrunk fabric to ensure a perfect fit with every wear are a good choice. A tag-free label increases a little one's comfort.