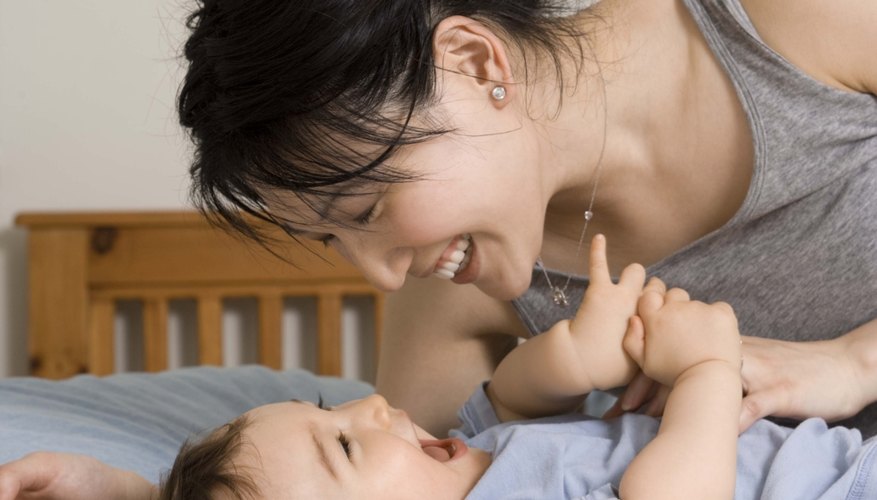 One of the first things a mom-to-be will do after announcing a pregnancy is rush out to purchase that first adorable newborn outfit. However, before hitting the store, consider the type of fabric that the newborn will be wearing. Fabrics can play a role in comfort and safety for your baby, so keep in mind fabric options when purchasing infant clothing.
Warm Weather
In hot weather, which is defined as over 75 degrees according to the American Academy of Pediatrics, infants should be dressed in a single layer of light clothing. Light fabrics provide a cooling effect on the baby if they are made of the right fabric. A fabric should "breathe" -- allowing body moisture to evaporate to cool the infant. Cotton and cotton blends provide this cooling effect and are more durable. Terry knit fabrics can also provide breathability during warm weather and provide a soft feel against baby's skin. Woven terry feels more like a bathroom towel and is breathable but not soft to the touch. Other knits such as fleece offer a soft feel but do not allow for moisture to escape as easily as cotton or cotton blends. If a garment is made entirely of synthetic fiber, such as nylon or polyester, use a cotton undershirt next to baby's skin to provide a more comfortable feel and to allow the skin the ability to breathe.
Cool Weather
During cool weather, the American Academy of Pediatrics recommends dressing a baby in one more layer of clothing than an adult needs to stay warm. Instead of dressing the baby in a few layers of heavy fabric, dress her in multiple layers of lightweight fabrics, such as those mentioned in the warm-weather section. Layers will allow parents to remove individual items as the infant warms up indoors. Never dress an infant in bulky fabric or use loose blankets to cover her, which may cause suffocation.
Safety
Laws that were in place that required infant sleepwear to be flame resistant have been removed. This means looking for snug-fitting clothing is a must. Tighter clothing does not ignite as easily as a loose-fitting garment. It makes it difficult to ignite and, if ignited, the clothing does not burn as fast due to lack of oxygen. Most manufacturers use hangtags on their snug‐fitting sleepwear to let consumers know that the product meets federal safety standards. Look for these hangtags when purchasing items. Some fabrics also have a flame-resistant chemical added. This chemical can be added onto the fabric or embedded into the fiber itself. If the garment says "chemical-free flame resistant" it means the product has the chemical added to the fiber and not on the fabric. Children should never sleep in a loose-fitting cotton garment. Each year, 200 to 300 emergency room visits result from burn injuries from these garments catching fire easily.
Other Considerations
Neck openings on clothing should be large enough to move the baby's head in and out easily. Footed pajamas and pants should have extra length to allow ease for kicking and mobility. Parents of babies in diapers may want to consider purchasing clothing with easy bottom access such as buttons in the crotch. Choose garments with fewer seams for increased comfort for your baby and ensure all garments have finished edges to reduce the chance of irritation or rubbing on the skin.