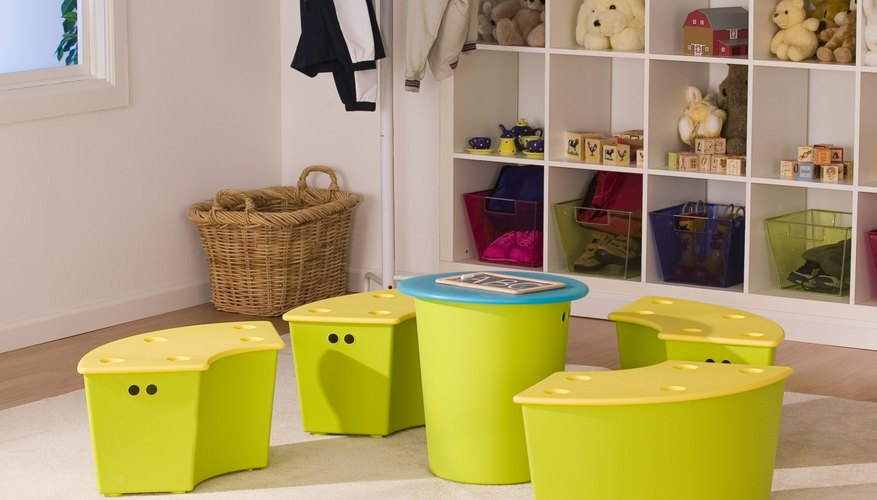 A significant number of American spent time in childcare in 2011, and 49 percent of children ranging in ages from newborn to 4 years old received care from relatives or siblings while parents worked, according to the Forum on Child and Family Statistics. The federal agency also found 24 percent of children in this age group spent time in center-based arrangements, such as nursery school, day care, Head Start or preschool. The curriculum used by child care centers helps shape development and growth, and centers use a variety of lessons as a foundation for instruction.
Montessori Teaching
Child care centers organized around the Montessori Education method create a "well-planned and structured learning environment" that meets the preschoolers "individual educational and cultural needs," according to the International Centre for Montessori Education. The curriculum model, based on the teachings of Italian educator Maria Montessori, allows children freedom of choice in learning within the bounds of a structured sequence of education materials the child chooses from. Montessori centers typically offer a calm, inviting and warm atmosphere that uses the natural world as the base for learning materials and lesson activities. Montessori teachers, certified by the Montessori Institute, serve as guides for child exploration that involves practical exercises in language, literature and math and that incorporates the senses, creativity and cultural themes in geography, natural sciences and history.
Head Start Programs
Head Start is a federal program that helps prepare children from low-income families for kindergarten. Head Start and its programs, including Early Head Start for babies and toddlers, also helps parents and children strengthen the family by using and teaching quality childcare techniques and instructing family members how to access resources available in the local community. Head Start provides local centers with curriculum design, suggested instructional materials, rules for supervision and management and training for directors and staff. The curriculum is divided into age groups, including infants and toddlers and elementary-level children. National rules require directors and center teaching staff to have education degrees or state certifications in early childhood education.
Religious Design
Religious-based child care centers use religious teachings as the foundation for curriculum and lessons while other non-denominatinal religious centers may adopt a religious tone for the activities without teaching specific religious dogma. Most states provide religious-based childcare centers with an exemption from state licensing standards, and this includes requirements for education, training or curriculum certification of the center director, teachers or supervising staff.
Special Needs
Child care centers offering specialized instruction and care for kids with special needs, such as physical challenges including sight and hearing impairments, and emotional and cognitive challenges such as faced by children on the autism spectrum, with attention deficit disorder or dyslexia. Children with special needs can benefit from curriculum designed for their specific learning challenges. Centers with curriculum designed for the hearing-impaired, for instance, use non-verbal gestures and teach instructors to use facial expressions to communicate with children and to provide face-to-face instruction for lessons and activities. Instructors at state licensed care centers must train to understand educational accommodations to teach special-needs children. All privately run, and government run, child care centers must comply with the American Disabilities Act.