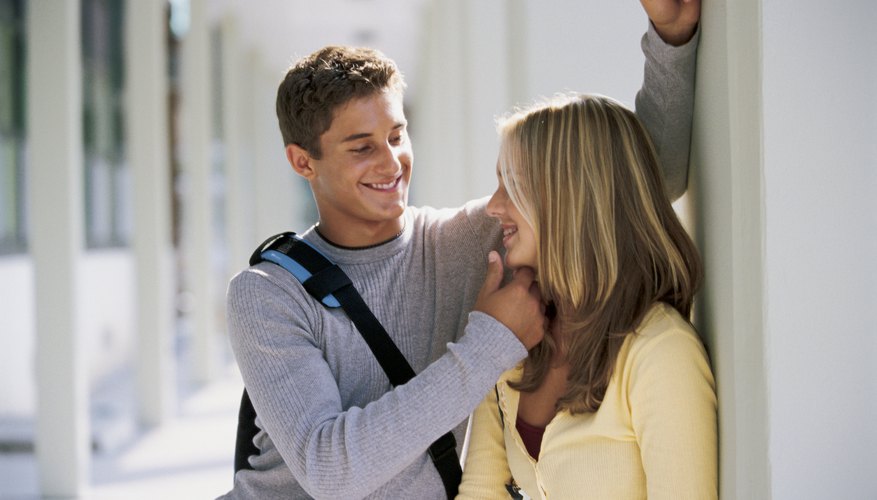 As your daughter strides into the teen years you may notice a shift from her thinking that boys are "icky" or have cooties to a giggling adoration and cute crushes or even real first love. Whether your teen's choice of a romantic mate is up to your standards or not, helping her to understand the difference between a boy who really likes her, and one that is pretending to or is using her, is key. When your daughter comes home starry-eyed or gushes about a new guy, take the time to meet this fab fellow and see if he is all that she says he is.
Meet your teen's potential suitor. Invite this new boy in her life over for a family dinner or have her ask him to stop over for an after-school studying session. Take the opportunity to talk to him, showing your daughter that you have an interest and investment in her life.
Ask the boy about his intentions towards your daughter. This may seem old fashioned, but it can help you to gage his level of interest in her. Use straight-forward questions such as, "What are your favorite qualities about my daughter?" or, "Why did you decide to ask her out on a date?" if you don't believe that the boy is acting in a real or truthful manner.
Talk to your daughter. Get her side of the story. Ask her why she thinks that this new boy likes her. Avoid judging her or making snarky comments that will deter her from opening up to you about what is really going on in her relationship.
Look for signs that the boy likes your daughter and isn't simply interested in controlling her. Observe his behavior towards your daughter, looking for warning signs such as extreme jealousy, isolating your daughter from her family and friends or not wanting her to engage in activities that don't involve him such as participating in the school play or joining an after-school club.
Separate out attraction from actually liking your daughter. Ask your daughter if the boy is pressuring her to engage in sexual behaviors that she isn't ready for. Remind her that physical attraction and a true emotional connection aren't the same.
Tip
Take your teen's new feelings of love seriously. While it's tempting to dismiss her heart-felt words about the boy who likes her as puppy love, these emotions are real to her. Opening yourself up to the possibility that she really is in love can open the parent-child lines of communication.
Your teen may not have the emotional recognition skills or maturity to see that she is headed in a potentially unhealthy direction with her new romance. While you don't want to add your two cents to each and every decision that she is making, you need to step in if you think that there is a serious issue at hand or if you have concerns that she is in an abusive relationship.
Warning
Avoid jumping to conclusions about your daughter's potential boyfriend before you truly give him a chance.
Talk to your teen daughter openly about sex and sexuality. Hew new feelings, and the hormones that cause them, may seem confusing to her immature romantic sense. Caution your daughter against boys who want to have sex right away or use pressure types of tactics to shame her into behaviors that she otherwise wouldn't consider. For example, telling her that she isn't cool if she doesn't go all the way should show her that he doesn't truly like her.