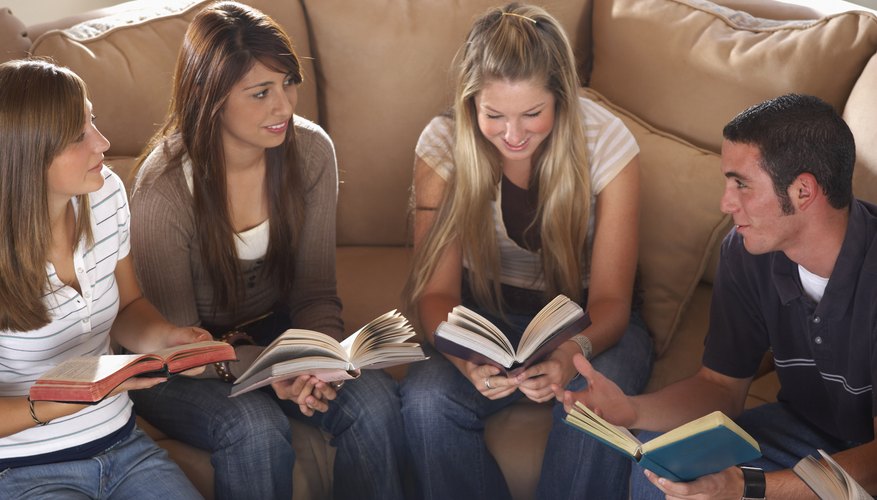 Teenagers are often under pressure to decide on subjects touching on important life issues such as career and relationships, and they might lack adequate knowledge to make informed decisions. Parents should initiate conversations to help teens understand their environment and get proper advice. The talks will also provide an avenue for teens to verbalize their feelings. Common issues for group discussion include sexual behavior, teen relationships, substance use, peer pressure and socio-political matters.
Education and Career
Teens can set high career ambitions as they seek to shape their identity and future. However, they might experience difficulties identifying their strengths and interests, and comprehending the job market prospects. According to a report published by Nick Chambers, director of the Education and Employers Taskforce, in an article for "BBC News," teenagers are unaware of the potential income and demand of various jobs. Discussing the job market prospects helps teens make informed decisions about their careers. It also helps them to choose subjects for majors. In addition, the teens are able to set goals for college, apprenticeship, business, associate degrees or specialized vocational training.
Relationships
Parent-teenage arguments crop up during adolescence. Teen forums, support forums, workshops and youth conferences provide avenues where your teen can get knowledge on parent-child relationship. Such forums also allow teens to share their views. Plus, your teen will get advice from experts, other parents and counselors on how to relate with you. You can also attend these forums and take up the discussion in the future.
Sex
Adolescents frequently engage in sexual intercourse without prior knowledge of the consequences. A total of 47.4 percent of high school students in the United States have had sex, and 39.8 percent of students do not use a condom during sex, according to the Centers for Disease Control and Prevention. Additionally, another 76.7 percent do not use any contraceptives. It is essential to engage in a group discussion of sexual issues with your child. Your teen will also obtain advice on health risks associated with having sex, contraception and unprotected sex, as well as the benefits of abstaining from sex.
Drug Abuse
Substance abuse is one of the most worrying teen behaviors for parents; however, teens do not seem to understand the consequences, according to the American Academy of Child & Adolescent Psychiatry. The institute, however, notes that parents can help their teen through open communication. Organize a discussion for your teen and her peers and give them a platform to talk about drug abuse, factors influencing abuse and challenges in overcoming them. You can act as a moderator for the discussion or invite an expert to give information on substance use.