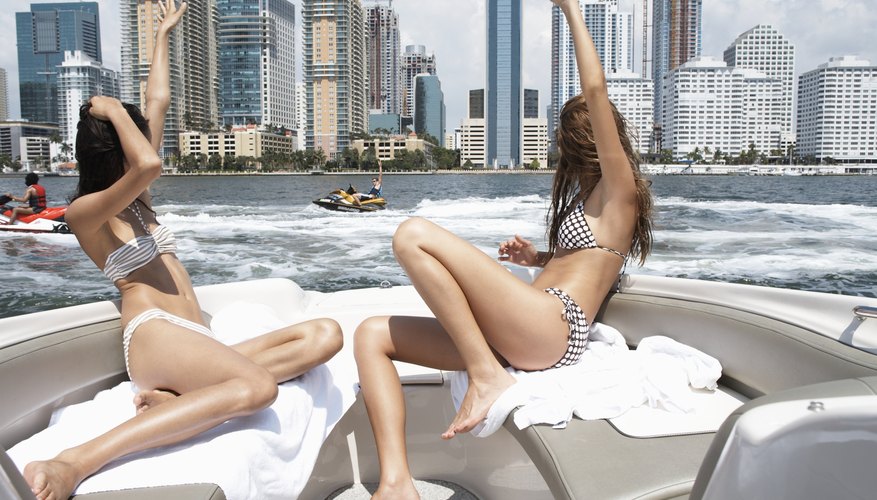 Southeast Florida is a thriving area that includes cities like Miami, Fort Lauderdale and Hollywood, as well as regions like the Everglades and the Florida Keys. It is also one of the most densely populated areas of the state. There is a wide range of activities for people of all ages. Teenagers, in particular, have a lot of options to keep themselves entertained, from water sports to outdoor activities to recreational attractions.
Beaches
No list of things to do in Florida would be complete without a spotlight on some of the best beaches. The state is surrounded by beaches, and some of them are world-renowned. In southeast Florida, South Beach in Miami tops the list. The crowded scene at South Beach creates a festive atmosphere, and there are many restaurants, shops and other attractions within walking distance. Teens can also search for celebrities and models, who are often seen on this beach's shore. More active teens will enjoy heading farther south to Key Biscayne. There they can snorkel, dive, sail, fish and enjoy other water sports. Of course, swimming and sun bathing are always on the menu, as well.
Animals and Nature
With the Everglades, southeast Florida has a diverse natural wildlife population, and there are a lot of opportunities for teens to learn more about the exotic animals that call this place home. At the Everglades Alligator Farm, teens can take an airboat tour through the Everglades and get a close-up look at some of the alligators who live there. Alligator, snake and wildlife shows are also performed hourly. At Butterfly World in Coconut Creek, teens can get up close and personal with a less scary side of the natural kingdom. Butterfly World bills itself as the largest butterfly park in the world, and thousands of butterflies are housed there. A thriving population of flowers and birds complement the butterfly species found there.
Sports and Recreation
The South Florida Youth Basketball Association in Davie provides athletic teens the opportunity to play on a league and enjoy some friendly competition. Games are available all year long and are organized by age group. For teens who prefer their thrills without working up a sweat, Xtreme Indoor Karting in Fort Lauderdale is an ideal choice. Teens can race at speeds up to 45 mph on a 1/2-mile indoor track. Other attractions include arcade games, a sky box and a concessions bar.
Amusement Parks
Outside of its beaches, Florida is perhaps best known for its amusement parks. Boomers! in Fort Lauderdale has a wooden roller coaster, bumper boats, go-karts, a rock climbing wall, laser tag and many more attractions to keep teens entertained. At Jungle Island in Miami, teens can go on a VIP safari tour that includes a look at lemurs, red kangaroos, Capuchin monkeys and more. Several animal shows are scheduled throughout the week, as well.