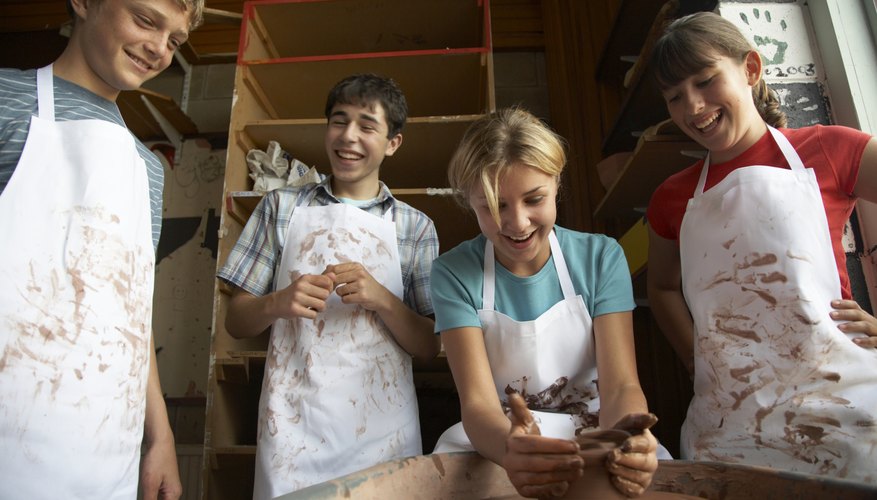 Group work for teens can extend beyond the classroom. A parent, for example, may lead a group of young people at a church, teen center, or at a community-based activity. When teens learn to work together on a project, they gain the opportunity to exercise their developing social, reasoning and problem-solving skills. A parent who teaches teens to work in groups gives each young person the chance to use their talents to complete something that's more personally meaningful than listening to a lecture, according to a Cambridge University publication, "Teaching Teenagers."
Advantages for Group Leaders
Group work is as beneficial to an adult leader as it is to the young participants. According to the Buck Institute for Education website, leaders who use group projects generally experience more satisfaction with the teens' learning experiences. A 2012 National Public Radio story suggests that listening to a lecture isn't always the most effective way for a teen to learn. In addition, when there are several teens participating in an activity, like at a camp, a parent who is a volunteer may find it difficult to provide the teens with the one-on-one attention that they may need. By having the youth work in groups, a parent can engage the teens and help them become more active in their own recreational or educational endeavors.
Advantages for Teens
When teens learn to work in groups, they get satisfaction from the experience, retain the information learned for longer periods and develop critical thinking skills, according to the Buck Institute for Education. When a parent teaches teens to work together on a group project -- like by helping the young people assign individual tasks and responsibilities for a volunteer project -- he helps create an experience that's more enriching, meaningful and conductive a lecturing to them about the importance of helping others.
Group Project Implementation
While teens generally already know how to work together, they may need assistance with a group project. Before beginning a project, it's wise for a parent to develop a set of ground rules with the teens. When the groups form, each group of teens should review the rules, as well as the details and goals of the project so everyone has a clear understanding about the expectations. After the young people review the scope of the project, Brigham Young University suggests having the teens do an ice-breaker with their fellow group members so they can get to know each other better and develop trust. A parent should then help the teens define the roles and responsibilities of each group member, and develop a plan regarding group meetings, participation, workloads and accountability.
Components of a Good Group Project
It isn't enough for a leader to simply assign a task to a group of teens. The most effective group projects are those that are meaningful to the teens and fulfill a purpose. Before a project starts, the parent should do an activity, such as an excursion or watching a movie, with the teens that generates interest in the topic of the project and is relevant to the teens. Your teens should have enough time to plan, expand, edit and execute their projects, as well as have access to the information and resources needed.