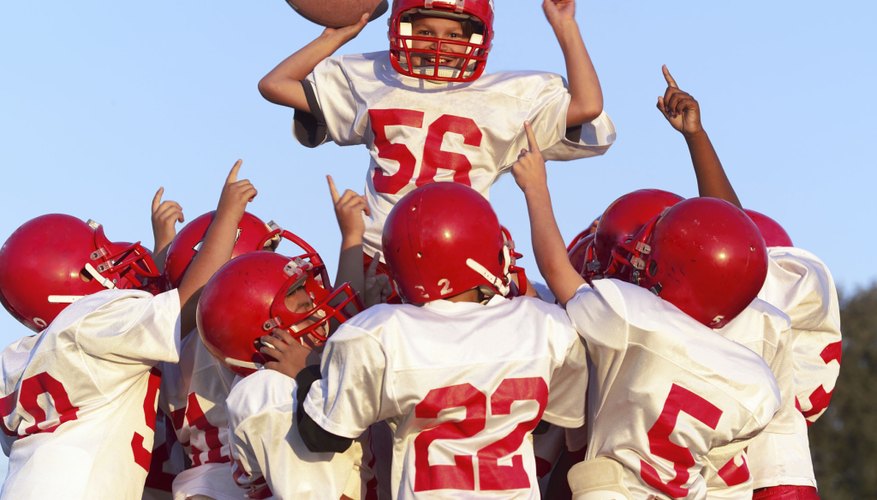 A young sports enthusiast will appreciate a sports-themed birthday celebration. Instead of choosing only one particular sport he admires, incorporate several aspects of his favorite sports into the party. Select the appropriate sports-themed decorations and the birthday child and his friends will be imagining they are all-star athletes at a real stadium.
Wall Adornments
Adorn the party room walls with sports-themed decorations. A birthday child who participates in school sports will appreciate decorations in his traditional team colors. Tape groups of sports-ball shaped Mylar balloons, such as soccer balls or basketballs, to the walls with accompanying latex balloons in the team colors. Hang posters of his favorite athletes and pictures of him in his sports uniform across the walls. A banner can be placed above the entranceway to the party with the words, "Welcome to [kid's name]'s All-Star Stadium."
Table Setting
Decorative party tables will give young party guests something festive to look at while they are eating. Create tablecloths to resemble sports fields. Tape pieces of white tape horizontally to the sides of a green table cloth to resemble a football field or use white tape to create the foul lines for a baseball field tablecloth. Use paper tableware featuring the birthday child's favorite sports team. Scatter sports trading cards on the table or place on each guest's plate. For table centerpieces, place various sports balls in wired baskets.
Game Booths
Painted sports game booths will add a decorative flair to the party area and serve as fun activities for the children. Create a hole in a plywood board large enough for a ball to fit in. Paint the birthday child's favorite baseball or football team's logo surrounding the hole. Place a box of inflatable baseballs and footballs beside the booth for children to throw through the hole. The rim of a white laundry basket can be painted orange to resemble a basketball hoop and placed on a table, as a game station, for children to toss miniature basketballs in.
Food Displays
Arrange the party's menu on a table in creative ways to coincide with the sports theme. Pour some ice cubes in plastic football or baseball helmets and place sports drinks and bottled water inside. Place sandwiches and hot dogs on sports logo food trays. Put popcorn and pretzels in miniature striped black and white boxes or bags to mimic sports referee shirts. Sports ball-shaped candy lollipops can be bunched together for party favors. A cake resembling a sports stadium will be a fitting table centerpiece.