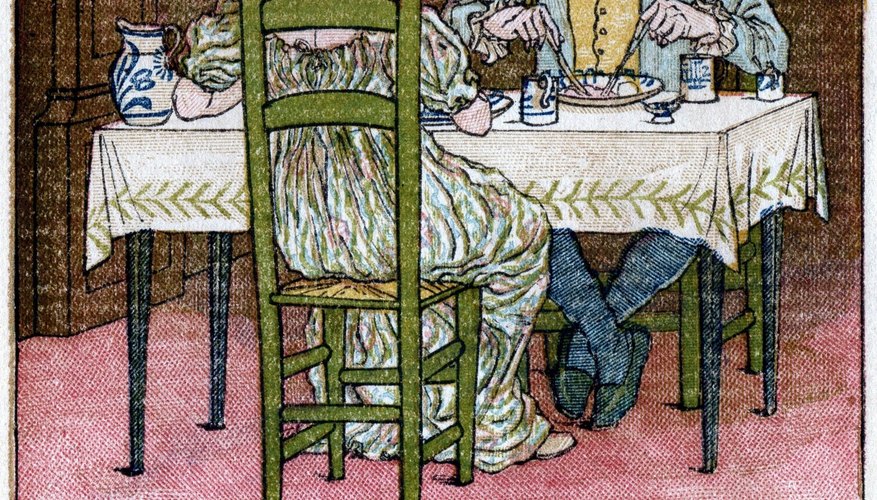 Cute rhyming stories for kids make reading fun. They are also a good way to help new readers identify word groups and remember facts. Your child might enjoy traditional rhyming stories, such as nursery rhymes or classic stories like "The Cat in the Hat" or "Madeline." You can even find funny little stories for kids on the Internet at websites that focus on reading material for youngsters.
Nursery Rhymes
Nursery rhymes or Mother Goose rhymes are traditional verses that have been recited to children for centuries. Some of them, according to the "Oxford Dictionary of Nursery Rhymes" by Iona and Peter Opie, were written down prior to 1599, while others are more modern in origin. "Little Bo Peep" is a few centuries old and might refer to Queen Elizabeth I saying that people in England were "shepe" that were playing "bo-pepe," which was a game similar to peekaboo. You can download several collections of nursery rhymes from Project Gutenberg, including "Mother Goose's Nursery Rhymes," illustrated by Walter Crane et al., and "Mother Goose or the Old Nursery Rhymes," illustrated by Kate Greenaway.
Classic Picture Books
The words, "Nine little girls in two straight lines, the youngest one is Madeline," are engraved on the hearts of many children. The picture book series about Madeline, by Ludwig Bemelmans, recounts, in rhyme, the bold adventures of a little orphan girl who is the despair of Miss Clavel, the nun in charge of the orphanage. Equally compelling are the picture books written by Theodor Geisel, better known as Dr. Seuss. For example, "Green Eggs and Ham," tells about the zany exhortations of "Sam I Am" to get the main character to "eat green eggs and ham."
Recent Rhyming Books
Authors keep writing new rhyming books all the time. Here are three recent publications. In "I Think It's a Rock," by Peter Collier, a young boy gives free reign to his imagination when something lumpy turns up in his shoe. "Goodnight, Goodnight, Construction Site," by Sherri Dusky Rinker, explains what each piece of construction equipment does during the day and explains that it is going to bed at the end of the day. "The Six Pirates," by Lily Lexington, tells the story of how six young pirates are grounded because of their bickering.
Available Online
There are many websites with books and activities for children. Nursery-Rhymes-Fun has a variety of rhyming stories ranging from traditional nursery tales to compositions by modern authors. Memory Typer has a page, Short Poems for Children, that provides several well-known story verses such as "The Boy Who Never Told a Lie" and "The Ants." The Cartoon Soup website lists the unique rhyming story, "The Wizard Man -- A Frightening Story."