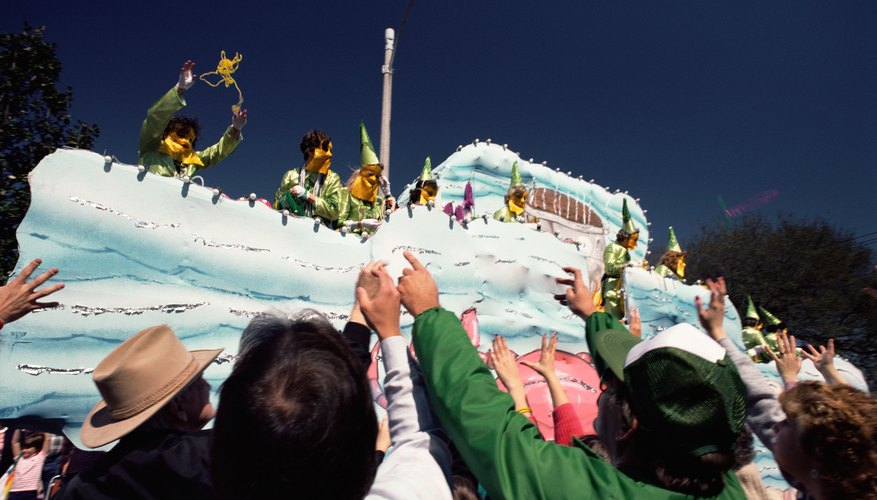 Floats are the centerpiece of most parades and kids love to watch them roll by. Creating a parade float is something most elementary school children enjoy. It gives them a chance to share their artistic skills and display items they've learned in the classroom. Whether your child is participating in a city or school parade, putting together a float takes some work. Making a solid plan before getting started helps the project go smoothly for all involved.
Float Theme
If the parade is a school-sponsored event, your child's group might have to choose a book or subject as the theme of their float. The group might also be assigned a sports-related theme. For a city float, the theme might be school colors or a combination of things that represent the school, such as its mascot, its choirs or band or its clubs and extracurricular activities. Choosing your theme and brainstorming all the ideas that go with it can help your child and her group come up with a plan for putting together the float. If you're child has free reign on a theme, she might do a prehistoric, ice age, space, zoo, circus or playhouse theme.
Float Transportation
Chances are, your child's parade float is heavy and can't be moved by hand, even with parents pitching in to help. Most floats are attached to a moving vehicle so they are easy to keep in the parade line and don't require a bunch of manpower to get moving. A flat bed truck is one option that gives kids plenty of space to set up the float and is designed to carry a relatively heavy load. For a smaller float, the bed of a pickup truck or a small trailer hitched to a car or SUV works well. You can even use a large wagon and decorate it as a tiny float that your child can pull through the parade route. The size of your float transportation depends on how elaborate your child's plan is and how many people will be riding on the float.
Float Construction
With so many ways to construct and decorate a parade float, your child and her group is likely to find just what they want. Start by wrapping the flat bed, trailer or wagon with sturdy paper, cardboard or paper-covered chicken wire. Use colors that match your theme and add decorations, such as the name of your child's school, the mascot or the year. For city parade, add pictures and words that go with the theme your child and her group selected. Add large cardboard dinosaurs and volcanoes for a prehistoric theme and use cut-outs of lions, elephants and zebras for a zoo theme. On top of the float, create paper mache figures, paint large posters for a backdrop, and cover chairs with colored paper and cut-outs to match the theme.
Float Extras
An eye-catching float will garner attention for your elementary school float, but adding some extras makes it even more memorable. Place a couple baskets full of candy or beaded necklaces to toss to the crowd as the float goes by. Use a battery-operated radio or boombox to pipe music that coordinates with your theme. This could be the school fight song, circus music or space music. The kids riding on the float can also dress up in school spirit wear, zoo keeper, alien or animal costumes to fit with the theme.