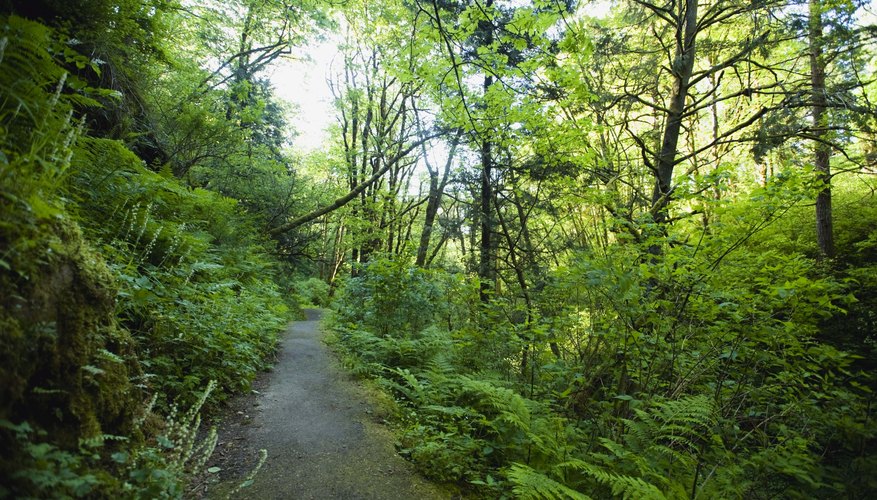 Gastonia is part of the larger Charlotte metropolitan area, which is the most populated area in North Carolina, and is also near Crowders Mountain and other natural landmarks. Residents of Gastonia have their choice of big city activities such as dining and entertainment or recreational activities that get them back to nature, such as hiking and swimming. Active teens have plenty of choices for outdoor activities to get a good dose of fresh air and some healthy exercise.
Hiking Trails
North Carolina's Piedmont area has many mountains and other natural landmarks that provide hiking opportunities. Crowders Mountain stretches through Gaston County, and teens can pick up several trails in Gastonia. Crowders Trail is a connecting trail between the Rocktop Trail and the Backside Trail and provides breathtaking views and an access point to Crowders Summit, which is 1,625 feet. It is a 2 1/2-mile trail one way and is considered to be moderately strenuous. In Charlotte, about 20 miles from Gastonia, the Ribbon Walk Nature Preserve includes nearly 3 miles of hiking trails that provide scenic views of forests, ponds and streams. Teens can also try to spot the 53 species of birds or 24 species of butterflies found at the preserve.
Swimming and Water Sports
In warmer months, teens have several opportunities to cool down while also getting some exercise. The U.S. National Whitewater Center in Charlotte gives teens the opportunity to enjoy whitewater rafting, kayaking, or swimming. Many non-aquatic activities are also available, such as rock climbing, zip lining, hiking and mountain biking. Live entertainment is also offered here. For teens just looking for a cool swim, the Lineberger Park Pool in Gastonia is an outdoor pool and mini-water park. The park includes water slides, a lazy river, splash pads, and aqua domes, among other attractions. Teens can swim or play, and they can even take swimming lessons, if needed.
Sports
Athletic teens can enjoy one of the many sports leagues and programs offered by the City of Gastonia throughout the year. These include baseball, basketball, fast-pitch softball, flag football and soccer. Each of these is offered at a different time in the year, and teams are available for kids age 5 to 18. Teens who enjoy sports but don't necessarily want to play them can head to the Bank of America Stadium in Charlotte to watch a Carolina Panthers football game. The open-air stadium has a festive atmosphere at game time, which also includes shows by the TopCat cheerleaders.
Amusement Parks
Thrill-seeking teens can head over to Carowinds in Charlotte to take a ride on one of the roller coasters that reach top speeds and turn upside down and through loops. Drop towers, sky fliers, and other thrill rides will keep the adrenaline pumping. Ray's Splash Planet, also in Charlotte, includes both indoor and outdoor activities. An indoor water park features plenty of rides for all ages. Outside, teens can enjoy basketball, horseshoes, a greenway for hiking or walking, and picnic space.