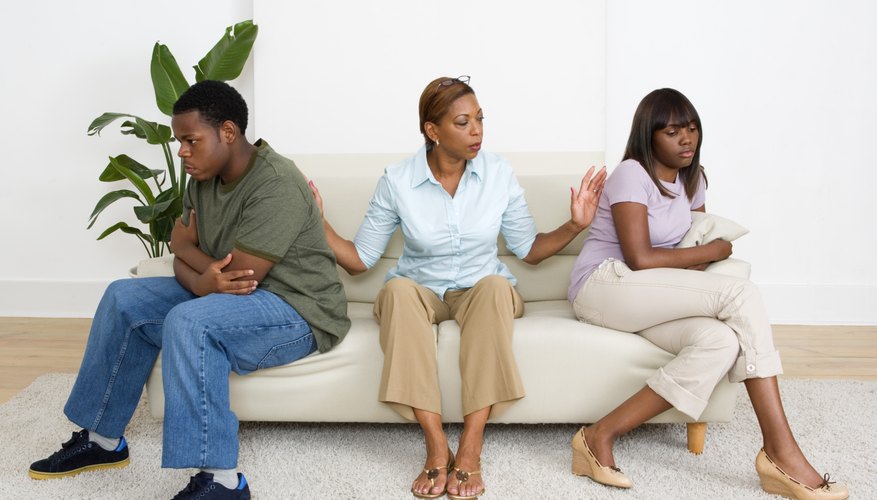 Maybe something you said was lost in translation, and now your mother-in-law glares at you every chance she gets. A bad relationship with your mother-in-law can have a chilling impact upon every other area of your life; your husband may become more distant, your kids may miss grandma. But, while you may be dealing with feelings of pride, making amends with your mother-in-law may be beneficial to your entire family.
Pick up the phone and swallow your pride, because the time has come to invite your mother-in-law over for a chat. Maintain a friendly and calm tone as you talk to her. If you are responsible for even a part of the rift, apologize to her when she arrives. Save the excuses, as these can soften the impact of your apology. If your mother-in-law was at fault, drop the blame game and focus on what you want. You might say, "I'm not happy about this rift between us, and I was hoping we could work on our relationship."
Ask your mother-in-law if you can discuss the source of the divide. Knowing what you did wrong — or, what she thinks you did wrong — can help you avoid the same mistake in the future. Address how you will both handle problems that may surface in the future. For instance, if your mother-in-law feels you were critical, she can ask for clarification. Maintaining a calm demeanor can help your mother-in-law relax, too.
Plan activities you might enjoy with your mother-in-law. When people are having fun together, they may more easily overlook a strained relationship. Going together to the salon can help you both find common ground. Exchange stories about your tots with her stories about your husband's early years. You may find that you and your mother-in-law can bond over stories of toddler temper tantrums.
Make an effort to invite her over or let her take the kids out for an afternoon. If your mother-in-law feels as though your mom gets to see the grandchildren more often, the flames of jealousy and resentment can be hard to distinguish. While your husband can also invite his mother over, taking the initiative yourself and inviting her over is a way of showing that you care about her needs and feelings.
Warning
Keep your composure even if your mother-in-law acts rudely toward you. If you fall into the same trap and return her treatment, you may never mend your relationship with her.