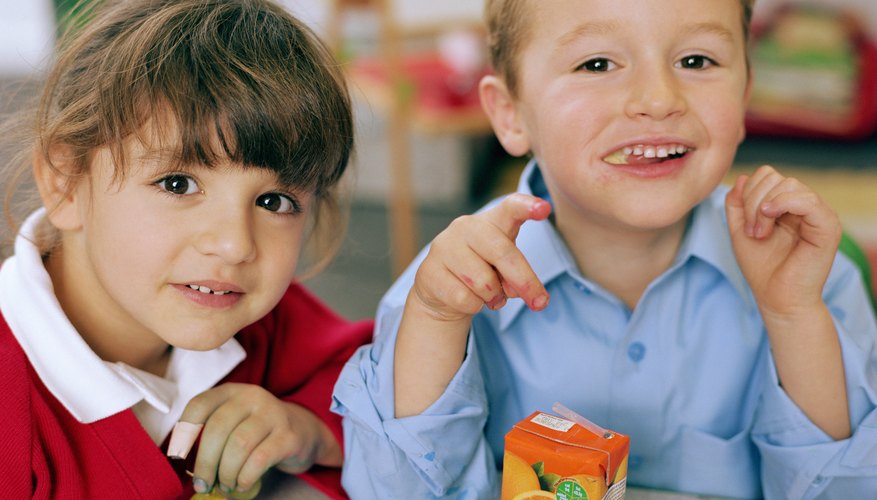 Lunchtime will quickly turn into a battle of wills when your picky toddler refuses to touch the sandwiches you make him. Instead of fighting your toddler to eat a sandwich, you can feed your toddler several healthy, picky eater-pleasing choices for lunch. Variety is the spice of life and changing up what you feed your toddler for lunch each day will not only introduce new foods to his picky palette, but also give him something to look forward to each day.
Fruit, Cheese and Yogurt
Packing in the required fruit, protein and dairy servings each day can be tedious. Cut up your toddlers favorite fruits -- apples, bananas, peaches, berries and oranges -- into bite-size pieces. Add a variety of cheeses for a dairy serving and cut into cubes or slices. A side of plain or low-sugar yogurt provides not only dairy but also protein. Allow your toddler to dip his fruit or cheese into the yogurt for a tantalizing blend of flavors.
Mini Pizzas
Pizza doesn't have to be something your order for takeout or buy in the freezer section. An open-face English muffin of the whole wheat variety, a smear of pizza sauce, a sprinkle of shredded cheese and some peperoni, chicken, ham or turkey as a protein and you have a mini pizza. A quick toasting under the broiler or in a toaster oven will melt all the yummy ingredients together.
Roll-ups
Even though your toddler does not like a conventional sandwich, she might enjoy the same ingredients in a different form. Spread a whole-wheat tortilla with peanut butter or sprinkle some cheese and add a deli meat. Roll the tortilla up and warm it in the microwave or serve it cold. A side of apples and peanut butter for dipping or carrots and ranch dressing will round out the meal.
Pasta Salad
Several varieties of pasta shapes on the market will delight your toddler. Boil the pasta and rinse it to cool. Chop up some tomatoes, cucumbers, olives, mushrooms, green beans or other vegetable that your toddler loves and toss the pasta and vegetables in an Italian, ranch or other dressing. For additional protein in the lunch, add shredded chicken or turkey.